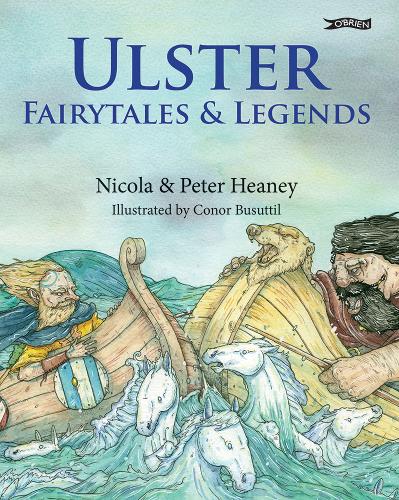 ENCHANTED horsemen riding out of the sea.
A bull so special it starts a war.
A deadly serpent who destroys whole villages.
This lavishly illustrated collection of nine legends – one each from Antrim, Armagh, Cavan, Derry, Donegal, Down, Fermanagh, Monaghan and Tyrone – will captivate children, introducing them to Ulster stories that have entertained generations.
An exciting new collection of legends from Derry father & daughter writing team Nicola and Peter Heaney, and illustrated by Conor Busuttil, from Co. Down.
Nicola Heaney was born and raised in Derry.
After studying in Scotland, she taught English Literature in Bristol and Madrid for over a decade before deciding to focus on her writing.
Her poetry has been published in various journals across the UK and Ireland, but this is her first collection of stories.
Peter Heaney was a primary school teacher in his native Derry for forty years.
During this time, he also worked with the Department of Education, developing literacy and storytelling projects; this work attracted several Irish, UK and European awards.
As part of the inaugural UK City of Culture in Derry, he initiated a major storytelling and cultural exchange programme with Derry City Council and the Oracle Corp. using video conferencing and virtual learning between schools in Derry and Kentucky, USA.
Peter has also worked with The O'Brien Press for several years, creating teaching resources and guides to support the use of class novels across the curriculum in developing a range of skills and learning experiences.
Conor Busuttil is a children's picture-book illustrator and passionate doodler.
Originally from a small rural village in County Down, he currently lives in the Welsh valleys. He was recently selected by the Eric Carle Museum as a rising star.
Conor also illustrated The Children of Lir by Laura Ruth Maher, published by The O'Brien Press.
Tags: