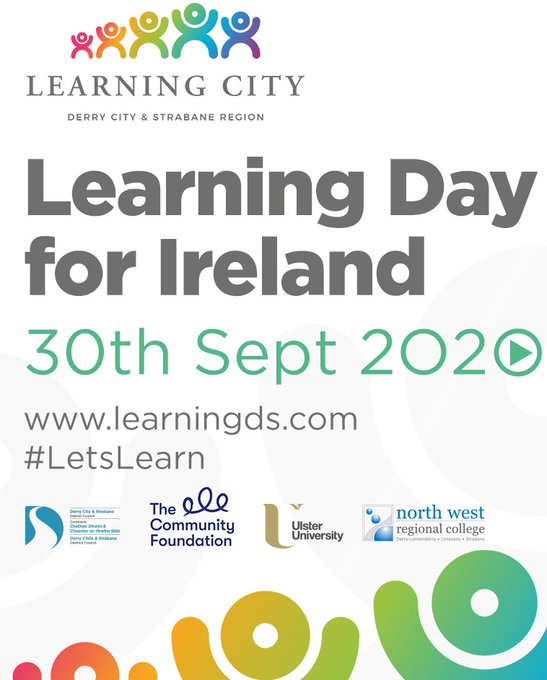 DERRY and Strabane will join locations across the country to celebrate Irish Learning Cities Day today, Wednesday, September 30, a five city joint initiative to promote learning across the island of Ireland.
In 2019, the civic leaders of Derry, Cork, Dublin, Belfast and Limerick formally signed an agreement to commit each city to working together and providing mutual support to help deliver on the vision of a Learning City for all citizens.
The Memorandum of Understanding between the locations highlighted "a shared dedication to strengthening friendly relations and enhancing cooperation between the peoples of the cities and city regions… to carry out Learning City exchanges focused on the principles of the UNESCO Global Network of Learning Cities."
Speaking ahead of the launch, Mayor of Derry City and Strabane District, Councillor Brian Tierney, said the initiative aimed to promote and celebrate the fantastic learning offering across the country.
"At the heart of a vision of a learning city is the commitment to using learning to improve the lives of all citizens, regardless of age or background," Cllr Tierney explained.
"Learning can be used to create a more equitable and inclusive society, a more sustainable and healthy society, and create inclusive opportunities for decent work and entrepreneurship.
"Here in Derry and Strabane we work closely with our learning institutions at the NWRC and UU to develop new learning opportunities and experiences.
"Much work is ongoing to enhance the city's profile as a vital learning hub with as we progress towards the delivery of the planned graduate entry medical school and continued expansion of the university here, and the implementation of our skills development strategy which will support local young people by providing better jobs and skills opportunities.
"Obviously at the moment we have had to adapt to new ways of teaching and learning in keeping with the restrictions around Covid-19 which has seen a growing focus on technology and virtual learning.
"In July Council hosted its first Virtual Learning Festival offering a wide range of online learning experiences and activities which was a great success.
"On Irish Learning Cities Day let's celebrate the strong learning foundations which have been laid and look to a future where learning is an accessible and enjoyable part of everyone's lives."
On Irish Learning Cities Day, the five learning cities and regions are working together to show how the Network benefits all five cities and adds value to the efforts of individual cities.
Go to www.learningcityds.com on Wed 30th Sept to view the virtual learning events which will be delivered throughout the day.
Tags: