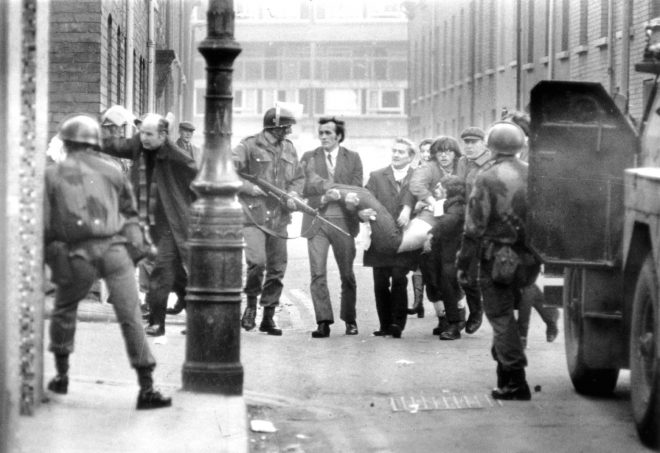 THE Public Prosecution Service (PPS) has stuck to its original decision to bring charges against no more than one soldier in relation to Bloody Sunday.
It followed a review of the cases of 15 veterans it determined there should be no action against last year.
Thirteen people were killed and 15 were wounded when the Army opened fire on civil rights demonstrators in Derry in January 1972.
A 14th person later died of their injuries.
One man, Soldier F, remains the sole individual facing court.
The reviews were requested by the families of some of the victims.
No new evidence was submitted for the reviews and solicitors for the families sent detailed submissions to the PPS setting out why they believed the decisions were wrong.
They believe about 10 other soldiers should be facing prosecution for murder and attempted murder.
The PPS said the reviews were undertaken by its senior assistant director, Marianne O'Kane, who was not previously involved in the cases.
She looked at the deaths of 10 victims who died on Bloody Sunday, as well as 10 others wounded.
She said: "I have concluded that the available evidence is insufficient to provide a reasonable prospect of conviction of any of the 15 soldiers who were the subjects of the reviews.
"Accordingly, the decisions not to prosecute these 15 individuals all stand," she continued.
"I know that today's outcome will cause further upset to those who have pursued a long and determined journey for justice over almost five decades.
"I can only offer reassurance to all of the families and victims of Bloody Sunday, and the wider community, that my decisions were conducted wholly independently and impartially, and in accordance with the Code for Prosecutors."
The families also argue Soldier F, as he was known at the Bloody Sunday public inquiry, should be facing more charges.
He is to stand trial accused of murdering James Wray and William McKinney in Derry in 1972 and is further charged with five counts of attempted murder.
Four of the attempted murder charges relate to the wounding of Joseph Friel, Michael Quinn, Joe Mahon and Patrick O'Donnell.
The fifth relates to persons unknown.
Tags: