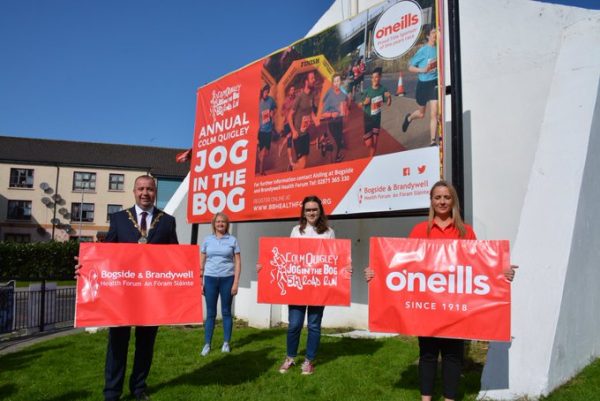 THE annual 'Jog in the Bog 5k' is going virtual this year.
Hundreds of people from around the globe have been asked to walk, run or cycle in aid of Mental Health Services.
The Bogside and Brandywell Health Forum has changed the annual event to an online global event with everyone encouraged to take part during the week of Monday, October 5.
Simply pick your day and complete your 5K and on World Mental Health Day, (October 10th) the local Health Forum will flood social media with all the photos and videos participants send in.
Partcipants are asked to register online at www.bbhelathforum.org and jog, walk or cycle 5k in aid of Mental Health Services.
The first 1,000 entrants will receive a coveted O'Neill's Colm Quigley Jog in the Bog 2020 T-shirt.
Entry fee is £10 and registration is now open.
You can also donate online to Mental Health Services via the website.
Mayor of Derry City and Strabane District Council Councillor Brian Tierney said: "I was Delighted to attend the launch today of the Colm Quigley Jog in the Bog 2020.
"You can do your virtual 5k run from the week commencing October 5th
"A great way to get out and active after the summer."
Run in memory of Colm Quigley, a world renowned Triathlete from Derry who died suddenly at 39, this year's global event is proudly sponsored for the first time by O'Neill's International Sportswear.
Aileen McGuinness, General Manager of Bogside and Brandywell Health Forum said the community were indebted to O'Neill's for giving of their time and money to support the provision of Mental Health Services in Derry.
"Kieran Kennedy and his team at O'Neill's Sportswear have gone above and beyond to support our fundraising efforts, particularly as production has been suspended since March.
"They have been so supportive of frontline services and of our campaign to raise funds to support counselling services for people in Derry."
The Bogside and Brandywell Health Forum have supported over 100 people to access counselling services this year, with demand more than doubling since the introduction of Covid-19 restrictions in March.
Managing Director of O'Neill's International Sportswear, Kieran Kennedy, said: "We are delighted to be able to support Mental Health Services and the work of the Bogside and Brandywell Health Forum.
"The Covid-19 restrictions have impacted on everyone, including our own production and 950 strong work force. If there is something we can do to help, then we will do our best.
"We're a family business and we're about helping people."
Danny Quigley, said he was delighted the run in memory of his father, Colm, would still take place this year.
"We hope to see all athletes and families take part as it will highlight the importance of looking after your mental health and give the Health Forum the platform on social media to engage with the wider public in relation to maintaining good mental health.
"Sport was very important to my father, as was his home town of Derry.
"Let's make this one to remember! He will be looking down with pride."
Tags: