The retail umbrella group has said local traders fear current upgrade plans to the road will "restrict passing trade to local businesses".
Job losses will occur unless there are changes to the proposed redevelopment plan, it warned.
"If customers can't gain easy access to our stores, then we will lose this trade," local trader David Barber said.
Retail NI said they submitted a number of changes to the redevelopment plan, but all of which were "dismissed" by the Department for Infrastructure.
Infrastructure Minister Nichola Mallon said she has asked officials to continue discussions with stakeholders, including local business owners, before she decides on "next steps".
Speaking to BBC Radio Foyle, local trader David Barber, who is also a board member of Retail NI, said the potential losses could cost the local economy £2m.
"We urge the infrastructure minister to intervene and ensure changes are made to the redevelopment plan to avoid these job losses," Mr Barber said.
Retail NI chief executive Glyn Roberts said after the "huge hit to the economy from Covid-19 every job is vital".
Mr Roberts has urged Infrastructure Minister Nichola Mallon to "listen to our concerns" and "protect these livelihoods and small businesses".
"Retail NI supports the overall plan to upgrade the Buncrana Road, as it is a vital investment in the infrastructure of Derry, the North West and the Derry-Strabane City Deal.
"However, no business should have to close, nor jobs lost as a result of this redevelopment."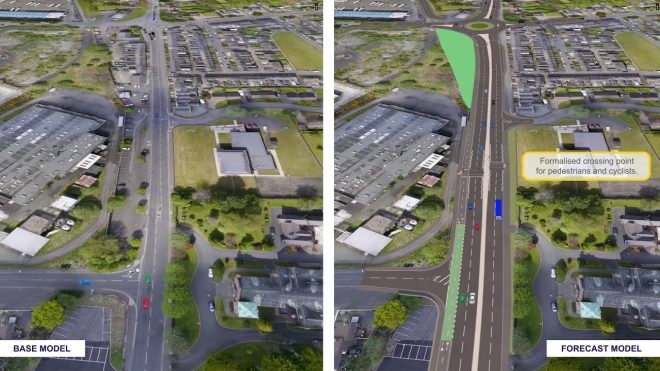 In a statement, Infrastructure Minister Nichola Mallon said the department is continuing to progress the scheme "in line with my objectives, which include improving transport links, road safety, and traffic progression and contributing to the regeneration of the area whilst maintaining the environment and achieving value for money".
"In March, just before lockdown, I met with local business owners on this road as I was keen to hear their views and concerns.
"I have asked my officials to continue discussions with all stakeholders over the coming months, before I decide on the next steps."
Tags:
PLANNED road redevelopments on the Buncrana Road in Derry could put 300 jobs at risk, Retail NI have said.