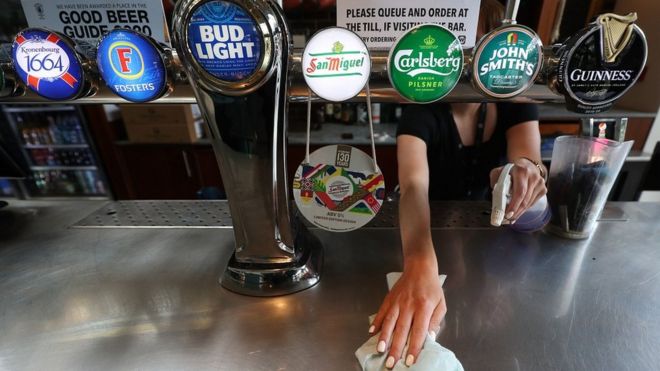 Drink-only pubs in the North of Ireland are set to be allowed to open from Wednesday, September 23.
But local restrictions are to be imposed on people living in the postcode BT60, which covers parts of Co Armagh, from Friday.
They will not be allowed to visit other people inside their homes or have visitors in – with a few exceptions.
The health minister said restrictions take effect from 5 pm on Friday September 18.
Robin Swann announced the plan after Thursday's executive meeting.
The news comes after the executive made the decision that drink-only pubs can reopen from Wednesday.
The hospitality sector had been given an indicative reopening date of Monday 21 September.
But the date has been moved back by two days to allow regulations around enforcement of the industry to be drawn up.
The reopening date had already been pushed back twice by executive ministers due to concerns about the virus.
About 600 pubs in the North of Ireland that do not serve food were awaiting the green light to open.
At present, drink-only pubs can only serve customers outdoors.
Last week, representatives from the sector met executive ministers to call for regulations to be put in place.
The executive has now agreed that the mandatory requirements for pubs to open will include:
Table service only – no standing and no bar service
Dancing will be banned in hospitality venues
A maximum of six people from any number of households can be seated at a table. Children under 12 will not be included in the total
More than six people will be permitted if they all belong to a single household
The venue will be required to collect customer details to assist with contact tracing
Face coverings should be worn to enter and leave the venue and for movement inside. They are not required once seated
The executive said beer bikes will not be permitted to operate.
Colin Neill, chief executive of Hospitality Ulster, said the decision to allow drink-only pubs to open would "hopefully reassure those who were concerned for their future".
He said he did not "underestimate the scale of the challenges ahead".
"We have provided detailed guidance in this respect and will continue to engage with the NI Executive and the statutory bodies to ensure compliance of the new regulations right across the industry.
"Nobody should be in any doubt that the hospitality sector locally is taking Covid-19 seriously."
In the Republic of Ireland, drink-only pubs are due to reopen on Monday with the exception of Dublin, which remains under tighter restrictions due to a rise in cases.
Tags: