Edel owns a sustainable fashion company in the heart of Donegal, specialising in all areas of knit and crochet since 1987.
Her online class, broadcast on her Facebook page at 7pm as part of this year's Culture Night programme, is suitable for all levels and will connect some of the dots about knitting and in particular Aran knitting.
"Aran knitting is a recognised symbol of Ireland the world over," Edel explains.
"As a craft passed through families visually it is now threatened by high volume off shore production.
"I am passionate about keeping our knitting heritage alive, appreciated and local.
"In this class I will explain the detailed edges, why they are important and how to do them.
"All levels of knitters are welcome to join and should hopefully gain something from it.
"The class is also of interest to those non knitters who love Irish cultural subject matter and drawing connections between genres.
"While you may like to knit along with the class or have some wool and needles at the ready to cast on, it is not necessary.
"The class will greatly interest anyone who may have knitted Aran in the past and now cannot due to arthritis or otherwise.
"The class could inspire young or want-to-be knitters too."
While knitting is a solitary task there is a strong social element to the craft which has been stymied by the recent lock down restrictions.
Edel hopes the class will help bridge that gap.
"Knitters are interesting as they are very good with solitude and company," she continued.
"By this I mean as knitting is a very mindful practice one could be alone and very content doing it.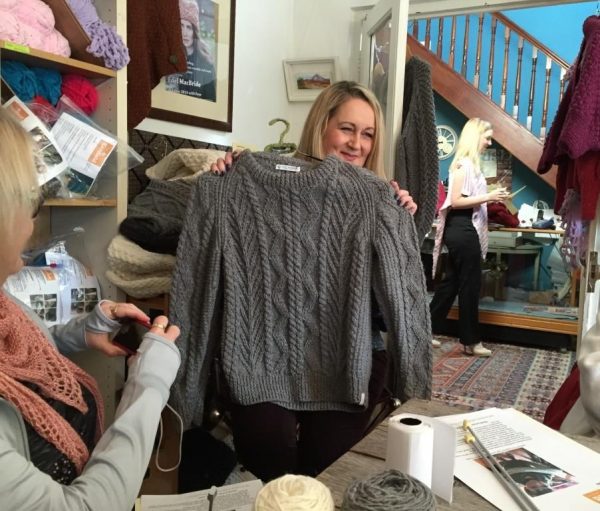 "There is now a great body of medical evidence backing up the health benefits of knitting, both physical and mental.
"Knitting for example lowers high blood pressure and can greatly reduce stress levels.
"On the other hand knitters are social butterflies too, knitter gatherings with all kinds of names are a regular happening worldwide and of course displaced due to the pandemic.
"Knitters love to share information and show off too.
"While lots of this can happen online I am sure the lack of social gatherings is sad for many.
"I am delighted to get on screen and chat knitting.
"I miss live classes, my wool customers and those wee conversations that spring from real interactions."
Until recently home knitting was often considered to be from a by-gone era but the value and demand for sustainable, ethically produced, clothing is on the rise leading to a resurgence in the craft.
"Much knitting and sewing for 'the family' of the 1970's and 1980's was abandoned due to the rise of the high street and affordable mass produced clothing," Edel continued.
"Many a wee boy was not complaining that he didn't have a new jumper for school knit by mammy.
"Sadly we even started to view homemade clothing as from the wrong side of the tracks.
"Think on Dolly and her coat of many colours – that was us and the Aran jumper!
"Now the slow clothing movement is really emerging as we appreciate the value of things that last.
"Movements like 'who made my clothes' and others highlight the plight of workers in cheap off shore production settings.
"Besides this we see that others can appreciate our beautiful heritage, like Taylor Swift and her recent album promotion shot wearing an Aran sweater and nothing else – Twitterland went crazy over this look and it keeps the Aran relevant."
Edel McBride's class 'Borders and Rib Structures in Irish Knitting' will be broadcast on her page facebook.com/fashionknitwear at 7 pm this Friday.
Edel is happy to hear from people after the class at Edelmacbride2013@gmail.com, for enquiries to do with yarns, wools or patterns.
You can also follow Edel on her social media channels: instagram.com/edelmacbride, facebook.com/fashionknitwear, Twitter @edelspirit, or through Knitfield Ireland on social media and at her website edelmacbride.com
Derry and Strabane will celebrate Culture Night 2020 with an increased online presence when venues across the City and District take part in the annual celebration of arts and culture this Friday.
The festival will see arts and cultural organisations throughout the island of Ireland open their doors in celebration with a wide variety of free admission events that aim to inspire, enlighten and delight the public.
The local programme has been tailored this year to meet Covid 19 safety guidelines and several venues will be able to open their doors to the public and host late night opening and special events associated with current exhibits.
To ensure the programme can still offer its eclectic mix of visual arts, music, theatre and dance a number of performances have been moved online to Council's social media channels.
Visit derrystrabane.com/culturenight for the full programme.
Tags:
Donegal fashion designer Edel MacBride will impart some of the secrets of the trade when she hosts a special online knitting master class this Friday September 16th.