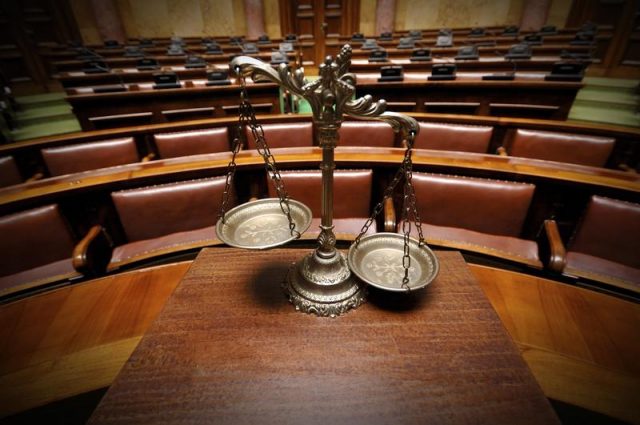 A Co Derry man who used his position as a sales manager for a printing firm to defraud his bosses was handed an 18-month sentence on Thursday.
Sean Patrick O'Neill, from Parkmore Close in Magherafelt, appeared at Belfast Crown Court on Thursday via a videolink.
He has been ordered to surrender himself to custody at Laganside Courts in Belfast at 10am today, Friday, September 11.
The Belfast Telegraph reports that the 31-year old was informed by Judge David McFarland that he will spend the next nine months behind bars, followed by a nine-month period on supervised licence with the Probation Service.
At Thursday's sentencing, it was revealed that O'Neill's offending led to a loss of more than £100,000 to the company and a number of staff lost their jobs as a result.
O'Neill admitted three offences – fraud by abuse of position and two counts of fraud by false representation – which he committed over a period from May 2018 to March 2019.
He began his employment with the commercial printers in greater Belfast as a salesman in 2015, before being promoted to sales manager. In this role, O'Neill was responsible for vetting new customers and setting up lines of credit.
Judge McFarland said O'Neill then "entered into an arrangement with another party to create false customers", and that as part of his offending O'Neill would allocate money paid for genuine services to these false customers, which he then retained.
The Judge said O'Neill's criminal behaviour emerged when "money was no longer available and the matter came to light," and that the money he generated by fraud was used to fund his gambling and substance addictions.
With the loss to the printing company amounting to between £122,000 and £154,000, Judge McFarland described O'Neill's actions as "confidence-sapping offending" and noted the "major financial impact" it had on the small company, which had to lay off staff.
The Judge said he had noted O'Neill's lack of previous offending, his good work record and the steps he has taken to tackle his addiction issues.
Also noted was the period of offending, the amount involved and the impact it has had on the company.
Imposing a prison sentence, Judge McFarland said: "People have to be aware that if they are put in a position of trust in whatever capacity, and if that trust is breached, that will lead to an immediate custodial sentence."
Addressing O'Neill on the video link, Judge McFarland ordered him to surrender himself to custody this morning, Friday, September 11.
When asked by the Judge "do you understand that?", O'Neill replied "yes, Your Honour."
Tags: