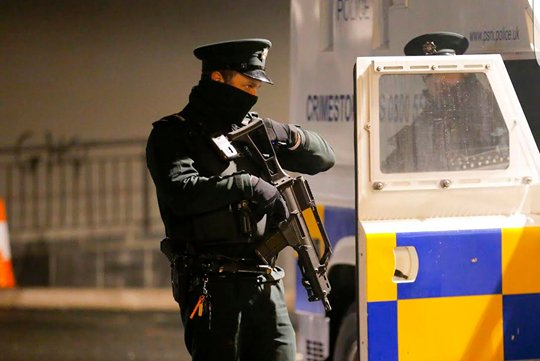 NINE suspects have been arrested as part of a major cross-border crackdown targeting the New IRA.
The joint operation by the PSNI and Garda was one of the biggest of its kind in recent years.
Those arrested were detained in Derry, east Tyrone and Belfast.
They have been taken to the serious crime custody suite in Belfast as part of Operation Arbacia.
In the Republic Garda teams carried out at least six searches in counties Dublin, Cork, Kerry and Laois as part of what it described as "ongoing operations to combat the activities of the New IRA".
"The searches are being conducted by members of the Special Detective Unit assisted by local gardaí and Regional Armed Support Units," the Garda said.
No arrests were made in the Republic.
It's understood the PSNI searched properties in Derry, east Tyrone and Belfast in early morning raids on Tuesday in search of terrorist material.
ACC Barbara Gray of the PSNI's Crime Operation Branch said: "I can confirm that nine people were arrested on Tuesday under the Terrorism Act in connection with an ongoing investigation into the activities of the New IRA. All nine remain in custody.
"The seven men and two women, aged between 26 and 50 years, were arrested as part of Operation Arbacia.
"They are currently in Musgrave Serious Crime Suite where they continue to be questioned on suspicion of a wide range of terrorist activity.
"The operation was supported by An Garda Siochana who carried out six searches at locations in Dublin, Laois, Cork and Kerry."
The New IRA admitted responsibility for the murder of journalist Lyra McKee, who was shot dead on April 18, 2019 during a riot in Derry's Creggan estatey.
The dissident republican group claimed she had been shot accidentally by one of its members while firing at police officers.
A man has since been charged with the murder of Ms McKee in the Creggan area.
In mid-February Sinn Fein vice president Michelle O'Neill said that the New IRA was planning a car bomb attack on one of her party members.
The Deputy First Minister said that the PSNI had informed Sinn Fein of the threat.
It came a week after the party was told of a dissident threat against Mrs O'Neill and her colleague, Policing Board member Gerry Kelly.
The threat against the pair emerged after they attended a PSNI recruitment event.
Tags: