Education Minister Peter Weir made the announcement on Monday, hours after announcing GCSEs would be based solely on teacher predictions.
The U-turn follows widespread criticism of the way way A-levels were graded.
Principals in Derry along with local politicians had described the A Level results process as a "shambles" and called for a rethink.
The Stormont Assembly will meet on Tuesday to discuss the fiasco.
About 28,000 pupils across Northern Ireland received their A-level results last Thursday.
More than a third of estimated grades allocated by teachers to A-level and AS level students were lowered in the final results.
Speaking at Stormont on Monday, Mr Weir said CCEA was working to release the revised results to candidates "as quickly as possible".
He said: "My prime concern is to ensure that young people in Northern Ireland are in no way disadvantaged in comparison to their peers elsewhere.
"Portability and comparability of qualifications is critical for students, particularly in Northern Ireland.
"In the challenging situation in which we find ourselves, there are no perfect solutions.
"I hope today's decision will provide a platform for [students] to go forward positively into higher education, employment or training."
A-level and GCSE students in England and Wales will also given grades estimated by their teachers, rather than by an algorithm.
While the proportion of A* to A A-level grades awarded in NI last Thursday rose by 2.3%, 37% of estimated grades were lowered; 5.3% were raised.
Last year, 45.8% of estimated grades provided by schools matched the student's final results.
Schools had been asked to give predicted grades but then other data was used by exams body CCEA to standardise the results.
Standardisation aims to prevent a situation where a school could give all of its pupils unrealistically high marks.
A-level students received their results last Thursday
Deputy First Minister Michelle O'Neill welcomed the decision, saying standardisation was "flawed from the beginning".
She said: "Many students have been through a tough number of days. Today is a win for them."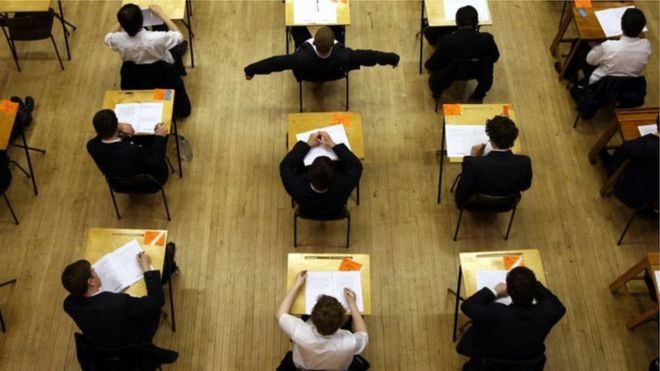 SDLP assembly member (MLA) Daniel McCrossan said he welcomed the "eventual positive result" but deeply regretted "the anxiety and distress this has caused for our young people over the last number of days".
Ulster Unionist MLA Robbie Butler said it was a "fair and just resolution" saying he was glad the Department for Education "accepted that it is right to place trust in teachers to grade students' A-level work".
NUS-USI President Ellen Fearon said the decision was "a huge relief" to students who "have faced months of uncertainty already".
She said: "This victory belongs to students who would not accept their futures being decided by an unjust algorithm.
"We've seen students mobilise and protest in NI, Scotland, Wales and England to force four U-turns from each respective government."
On Tuesday morning, Mr Weir said GCSEs taken with exams body CCEA – which provides about 97% of GCSE exams in Northern Ireland – would be not be subject to standardisation.
Following the cancellation of exams in March, CCEA was instructed by Mr Weir to ensure the calculated results in 2020 were broadly in line with performance in recent years.
CCEA asked teachers to give a predicted grade for their pupils and then rank them in order within their class.
It then used other data to standardise the results. For A-levels, the model used pupils' AS-level results and resit data.
By Sunday night, representatives from all parties had signed an SDLP motion, representing Sinn Féin, the Ulster Unionists, Alliance, People Before Profit, the Green Party, Traditional Unionist Voice and independent MLAs Claire Sugden, Trevor Lunn and Jim Wells, who no longer holds the DUP whip.
Speaker Alex Maskey agreed the assembly would meet on Tuesday to debate the issue, although this was decided prior to Mr Weir's U-turn.
Tags:
A-level and AS-level students in the North of Ireland will be awarded the highest grade either predicted by their teacher or awarded officially last week.