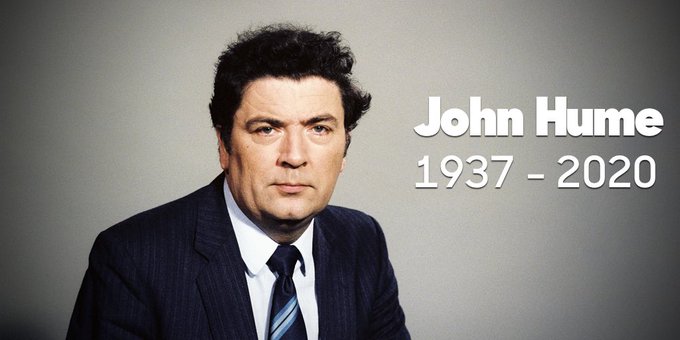 A son of John Hume will not be able to make it to his father's funeral on Wednesday because of the Coronavirus pandemic.
Aidan Hume lives and works in Boston, America.
But because of current travel restrictions, Aidan is unable to be back in his home city of Derry to pay his own personal respects to his 83-year-old dad.
John Hume passed away on Monday at the Owen Mor care home in Derry.
His remains will leave from Moville this evening at 7.30 pm and return to St Eugene's Cathedral at 8.30 pm
His family have asked people not to gather on the streets as his remains the journey into Derry.
Instead they have asked that at 9 pm people light a candle in their homes or on their doorstep for peace.
Mr Hume's Requiem Mass will take placed on Wednesday, August 5, at 11.30 pm.
It will be streamed live on BBC News NI's website from 11.15 am.
The priest who is due to deliver the funeral homily has echoed the family's call for mourners to pay their respects from home rather than attend mass gatherings during the pandemic.
"We live in extraordinary times and, sadly, all those people all over the island of Ireland and beyond cannot attend this evening," Fr Paul Farren said.
"We have to be careful, prudent and safe and do what's wise.
"We ask people at home to pray, to light a candle – we will have a celebration of light and our intention is for peace."
The Mayor of Derry, Brian Tierney, who represents the SDLP, will also light a candle at the city's Guildhall building on Tuesday evening as Mr Hume's body returns to his home city.
Tags: