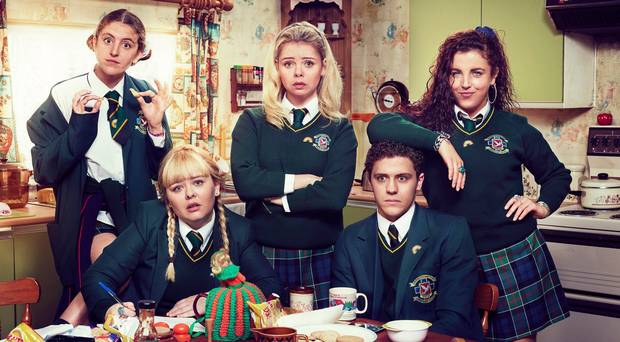 TALENT from the North of Ireland talent was represented virtually at this year's Bafta awards with Channel 4's Derry Girls, Game of Thrones, Line of Duty and composer David Holmes all up for awards.
Derry Girls was in the running for the best scripted comedy award, but lost out to Channel 4 sitcom Stath Lets Flats.
The hit series set in 1990s pre-ceasefire Derry was written by Lisa McGee, who sent her congratulations to the winners on Twitter saying "Sorry we can't huff to your faces this year".
Also contending for the award was BBC's critically acclaimed Fleabag and Channel 4's Catastrophe.
Northern Ireland-filmed epic Game of Thrones was nominated for the must-see moment award, for series finale when Arya Kills the Night King.
Police thriller Line of Duty, which was also filmed in Belfast, was nominated for John Corbett's death.
But it was the surprise romantic twist in BBC's Gavin and Stacey Christmas special in which Nessa proposes to Smithy which won the award.
Accepting the award, co-creator Ruth Jones said: "Thank you to everybody who was involved in making the show.
"It was really joyous experience for us all. Winning this Bafta is immense."
Fellow co-creator James Corden added: "Thank you very much to everybody who voted and the cast and crew that made the show.
"This is the lovely icing on an already really lovely cake. Ruth, any other cake references you would like to add?"
Jones replied: "I just want to sink my teeth into that Bafta and suck all the sugary juices from it."
Belfast musician and composer David Holmes was nominated for a Bafta TV Craft Award for his soundtrack to Killing Eve, the hit spy comedy written by Phoebe Waller-Bridge.
Holmes and his indie band Unloved, which includes his co-composer Keefus Ciancia and singer Jade Vincent, provide most of the music for the award-winning hit drama.
Last year Ciancia and Holmes were awarded the gong in the Original Music category at the 2019 ceremony, but lost out this year for Hildur Gudnadottir's music for the disaster drama Chernobyl.
The headline awards of the night saw Glenda Jackson named as best leading actress for Elizabeth is Missing, while Jared Harris was picked as best leading actor for his role in Chernobyl.
Fleabag star Sian Clifford celebrated her Bafta win for female performance in a comedy programme with the show's creator Phoebe Waller-Bridge, and her friend even presented her with the famous godmother sculpture from the show.
Having been friends for almost two decades, bot were nominated in the same category.
Clifford added they had to separate while they both dialled into the ceremony over Zoom to see their award announced, but have since reunited.
Speaking afterwards, she said: "There was sound feedback so we broke into our friend's house down the road. We reunited after I won and she gave me the godmother statue, we both have one."
The sculpture, of the naked torso of Fleabag and her sister's late mother, became a fixture in the show. She added: "There is so much history with this show, with my friendship with Phoebe.
"We have just championed each other since that day and I just feel so lucky to have found her and have somebody who believes in me more than I believe in myself."
Luther star Idris Elba's career was honoured with the Special Bafta award.
The 47-year-old actor said he would promise to champion other artists' careers.
"I don't believe that I am very special. I believe that I have been given an opportunity," he said.
"What I have done is taken my opportunity and handed it backwards to other people that need that opportunity.
"I didn't plan to do it, it's just natural feeling and natural reaction. I feel very grounded coming from east London, where I was born and raised, and I know that in east London we try and treat people with respect because everyone comes from the same cloth."
The show was opened by Australian comedian and musician Tim Minchin who performed a satirical song written for the ceremony via video link, about the coronavirus pandemic's impact on the film, TV and theatre industries.
Tags: