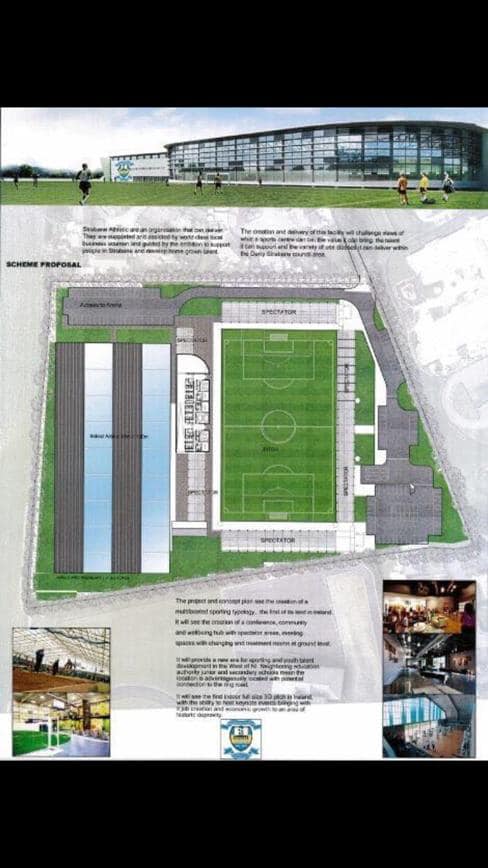 STRABANE Athletic's planning application to develop a 10 acre site into a state of the art sporting venue, comes in front of Derry City and Strabane District Council's Planning Committee on Wednesday, July 29.
When completed the complex will house a football ground, a full size 3G indoor arena (which would be the first of its kind on the island of Ireland) plus a 40,000 sq ft Youth Center, office block and Conference Centre.
SA say that unfortunately the development is not currently enjoying the full support of the planners, due to their interpretation that it is not a significant enough project to allow access from the Bypass.
In a statement, SA say: "The details were was first presented to the authorities back in February 2018 when PAD and PAN applications were completed.
"After investing tens of thousands of pounds of hard earned funding and countless hours of work by the committee, the planners finally revealed to the club in December 2019, their interpretation that the project didn't meet the criteria for being regionally significant or being an exceptional enough circumstance to warrant access from the Bypass.
"The club have worked extremely hard to change their minds, producing countless reports with evidence of need and justification for the project, but unfortunately nothing yet has changed.
"The application has been littered with obstacles along the way, with the changing of case officers a frequent occurrence.
"It has been delay after delay from February 2018 to July 2020. It has taken almost two and half years to get to this stage.
"Only last month we were asked to produce more reports costing another £18k.
"On investigation we discovered these reports would have had no influence on changing the minds of the Planners regarding access.
"If we had commissioned the reports, this would have further delayed the application into 2021.
"So we have made a decision to present this application as it stands to the committee and ask for a determination of access.
"If the committee agrees with our interpretation that this is a significant and exceptional project, it gets us past the first hurdle which will then give us justifiable reasons for investing in the additional reports."
Club Chairman Seamus McElroy stated: "For many years Strabane has lacked facilities that our community and in particular our young people deserve.
"We have been instrumental in encouraging the development of Melvin Park to its current standard but Strabane Athletic can't stop there.
"We must continue to invest for the future and in particular our ultimate goal of having a venue in which Senior Soccer can be played in Strabane.
"In addition this facility will improve people lives! With the amount of emphasis around mental health, obesity, substance abuse, employment and many more issues, it's critical that services are developed."
The club statement continued: "The project has taken too long to get to this stage.
"It has had to negotiate many hurdles and when we have got over one, we were immediately faced with another.
"We enjoy widespread support from all political parties as they see this to be an amazing and unique project.
"The parties have all asked for it to be given the green light. Wednesday is a big day and one which Strabane Athletic will approach with the same vigour and passion as we have shown in the past.
"Regardless of the outcome on Wednesday, we believe that this ground breaking development can be delivered for the betterment of Strabane.
"It's over to the Planning Committee meeting on Wednesday to dictate the next stage."
Tags: