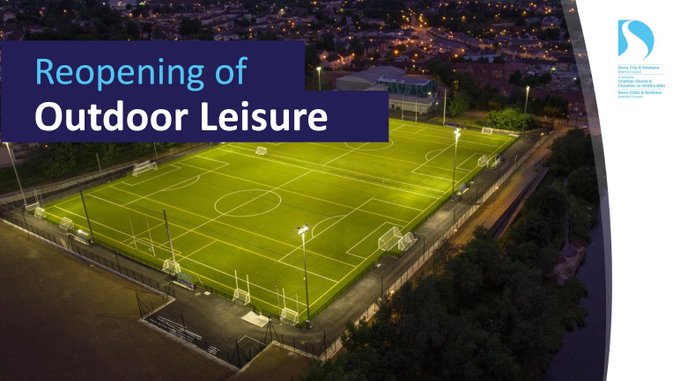 WHILES all Derry City and Strabane District Council owned outdoor leisure facilities remain closed to the general public in keeping with Government COVID-19 legislation, work is at an advanced stage after new Government guidance to reopen outdoor pitches for sports clubs, as an interim measure to assist with their return to play, from next Friday 17 July.
A bespoke Leisure Covid-19 booking system will be up and running from today, Thursday, July 9, for clubs to book their training slots directly and to ensure compliance with risk assessments and safe systems of works.
To assist this process, Council will require all sports clubs and organisations looking to train or use the facilities to provide supplementary information in addition to the normal booking documentation.
This will include specific Covid-19 risk assessment, all of which is in line guidance from NI Executive, Sport NI and relevant National Governing Bodies.
As part of this open call to constituted clubs to access facilities, the Council is asking all clubs and sports organisations to ensure they have made the necessary preparations to supply all documentation required.
It is important to note that the main pavilion buildings will remain closed as will the toilet facilities.
The fees for hiring pitches will be £14 per two hour session.
Sessions can only be booked for training purposes only.
All hire charges for any competitive and pre-season games will be as outlined in the pricing policy.
Clubs looking for more information and keen to book the outdoor pitches are urged to fill out the online form at the link below
Full information and the booking form can be accessed at http://derrystrabaneleisure.com/bookings/
Sports clubs can request a booking by sending a booking application form and all required supporting documentation to sportsdevelopment@derrystrabane.com.
A spokesperson for the Leisure section reassured the public that it regularly reviewing any updated guidance from Government in relation to outdoor leisure facilities reopening to the public, adding that staff are working behind the scenes in preparation of that happening over the summer months.
The spokesperson said that it was important to note that Council must follow the strict guidelines from Government, Sport NI and the relevant National Governing Bodies Guidance.
The spokesperson added that while Council owned leisure centres also remain closed, new Government guidelines have permitted us to make arrangements for a phased reopening later this summer.
The Council is committed to working with all sports organisations, governing bodies and user groups to ensure that when all leisure facilities are reopened that they do so in line with Government guidelines and the health and safety of staff and the public are to the fore.
Regular updates in relation to the resumption of services will be communicated with leisure members, user groups, stakeholders and the wider public on a regular basis in the weeks ahead.
More information is available on the Council website at – www.derrystrabane.com/leisure
Tags: