Hotels, bars and restaurants in the North of Ireland were allowed to reopen last Friday, July 3 to the public for the first time in over three months in lockdown.
The tourism sector in the North of Ireland was thriving last year generating almost £1 billion in revenue for the local economy.
However, this year it's predicted to generate £400 million, Janice Gault from the NI Hotels Federation told Stormont's Economy Committee.
Ciaran O'Neill from Bishop's Gate Hotel says their first weekend had a strong food and drink intake.
This was despite a reduced capacity for social distancing measures to protect customers and staff.
But he revealed that the occupancy was low at 40 per cent.
He told the committee there were times during this pandemic when if someone had asked would still be trading on July 8, he would have said "no".
As the committee was meeting, British Chancellor Rishi Sunak was announcing measures to help try and boost the hospitality sector.
From next month, an 'Eat Out To Help Out' scheme will be launched to try and encourage people to visit restaurants and bars serving food.
The Treasury, he said, will pick up half of a customer's food bill between Monday-Wednesday. Alcohol is excluded from the so-called 'meal deal'.
There will also be a reduction in VAT for the hospitality sector from 20 per cent to 5 per cent.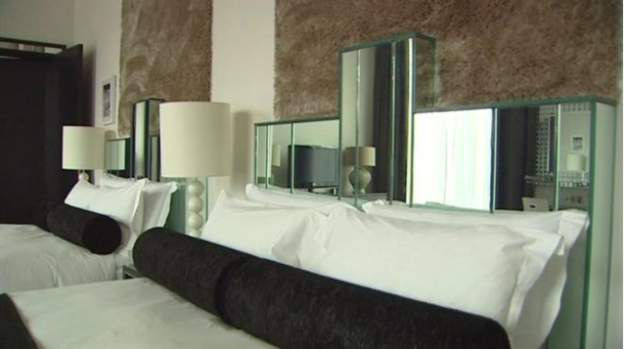 Hospitality and tourism have been particularly affected due to a huge decline in air travel and the introduction of social-distancing rules.
Hospitality Ulster said today's announcement was "a welcome boost".
The umbrella body said the move comes at a time many in the hospitality industry "are fearful for their future" but will help to "paint a brighter picture".
Janice Gault, of the NI Ireland Hotels Federation, told the committee that in the medium term the sector hoped to "get the GB market back".
But she said international visitor numbers were likely to be low over the summer.
"For us, we see the really difficult time of trading is going to be from September through to next March".
Tags:
THE hotel industry is predicting output could be halved because of the impact of the Coronavirus pandemic.