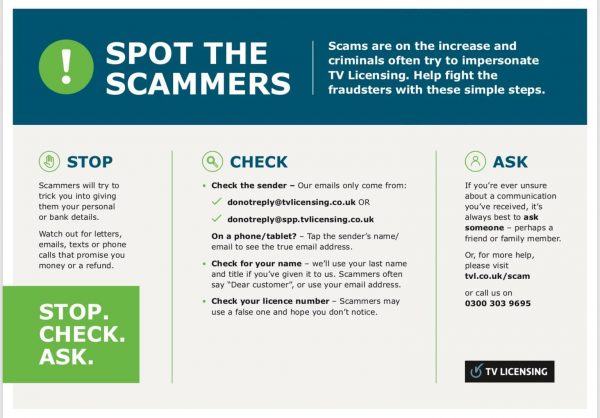 THE PSNI is warning the public in Derry to be on the guard over the latest scam.
This time in involves crooks purporting to be from TV Licensing.
Scammers will try to use a number of tactics to make you part with your money.
Recently we have become aware of scams involving criminals purporting to be from TV licensing. We would ask you to Stop, Check, Ask –
– STOP Scammers will attempt to trick you into giving away your personal or bank details. So always be wary of letters, emails, texts or phone calls that promise you money or a refund
– CHECK Sender, spelling and grammar, your licence number, your name
– ASK If you're ever unsure about a communication you've received, it's always best to ask someone – perhaps a friend or trusted advisor. Or you can contact www.tvl.co.uk/scams.
For further advice and information visit www.nidirect.gov.uk/scamwiseni or the ScamwiseNI Facebook page @scamwiseni
Tags: