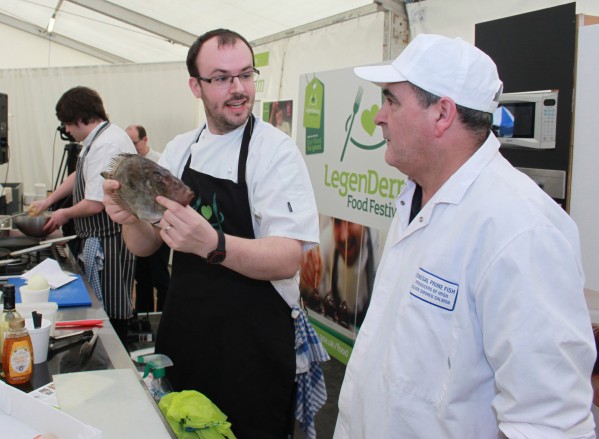 IN collaboration with the local food and drink network, Derry City and Strabane District Council have officially launched its new regional Food and Drink Brand, LegenDerry, with the help of a local poet and familiar faces from the region's food, drink and hospitality sectors.
Coinciding with the reopening of Ireland's hospitality sector, 'A Taste of LegenDerry', written by local poet Pamela Brown, was commissioned to celebrate the unique food and drink offering as well as the rich culture and heritage both visitors to the region and local people can expect to experience.
22 members of the local Food Network feature in the short motion picture by local videographer Gary McFeely, reciting the poem, which showcases some of the city's most iconic landmarks including the Peace Bridge, GuildHall and the Walled City Brewery as a suitably cultural backdrop.
The LegenDerry Food and Drink Brand is the result of the region's Food and Drink Strategy, which was launched in February 2019 by the Council as part of its wider plan to drive tourism and firmly place the region on the map as the number one food destination on the island of Ireland by 2025.
Part funded by the Seafood Innovation Programme – Smart Atlantic Seafood Cluster known as the 'SAFER' project, applications opened this year for local restaurateurs, hoteliers and food and drink producers to become an accredited member of the brand.
The Council received an overwhelming response and in February over 45 providers received an official accreditation.
As a certified LegenDerry provider, businesses are showcased on a newly launched website and receive a suite of marketing material to signpost their venues or produce with the LegenDerry stamp of approval.
Commenting on the official launch, Councillor Brian Tierney, Mayor of Derry City and Strabane District Council, said:
"Nobody could have anticipated what 2020 would bring, but we are incredibly proud that we are finally able to launch the LegenDerry Brand and coincide the release of our locally-commissioned poem with the reopening of the hospitality industry.
"LegenDerry is a hub of hardworking and committed food and drink providers who take pride in everything they do, and this is one of the reasons why the North West region is already on track to become the top food destination on the Island of Ireland.
"This summer, people are opting for staycations as opposed to international travel and LegenDerry offers the complete package; not only LegenDerry for food, it also offers a range of outdoor adventure pursuits like hiking the Sperrins to paddle boarding along the River Foyle, as well as less strenuous activities like soaking up the city's history and culture.
"All this combined with our exceptional reputation for hospitality and quality produce, guarantees a memorable trip for visitors."
Selina Horshi, vice-chair of the Food and Drink Network and director of Best Western Plus White Horse Hotel, added:
"It goes without saying that the last few months have been incredibly challenging for the hospitality industry and many of the businesses and brands within the Food and Drink network have had to reassess and adapt their offering in order to survive these difficult circumstances.
"With Friday 3rd July marking the reopening of our industry in Northern Ireland, hot on the heels of the South reopening, we felt this was a timely opportunity to officially showcase LegenDerry and the people behind it.
"As a network of business owners for coffee shops, restaurants and hotels, to food and drink producers, we are exceptionally proud of what we have to offer to both our local and loyal customers, as well as domestic and international tourists.
As the Hospitality Industry re-opens today, we are delighted to be partnering with so many of the local food & drink sector to launch the new LegenDerry Food brand.#LegenDerry #GreatPlaceGreatTaste #ItsOurPleasure #TastetheIsland #VisitDerry #EmbraceaGiantSpirit #supportlocal pic.twitter.com/REnQzRLRkE

— Derry Strabane Cncl (@dcsdcouncil) July 3, 2020
"We are really looking forward to welcoming visitors from across the island to our wonderful region, but, at a time where 'supporting local' has never been more important, we would encourage our local people to fully embrace the fantastic food and drink offering that they have right on their doorstep."
In addition, a number of accredited food producers have come together to create the 'LegenDerry Larder', a delectable selection of award winning artisan products, including; Ukulele Chocolate, Silver Bean Coffee, Banagher Bold Cheese, Brewers Malt Biscuits, LegenDerry Ding Sauce, Lo & Slo BBQ Sauce and Grainola Goddess honey-nut Grainola.
Priced at £40 (€44.34) and available to purchase online via www.walledcitybrewery.com, the larder is the ultimate treat for foodies who wish to have the mouth-watering tastes and flavours of LegenDerry delivered straight to their door.
For further information, visit http://legenderryfood.com/
Connect with LegenDerry on Facebook and Instagram @LegenDerryFood.
Tags: