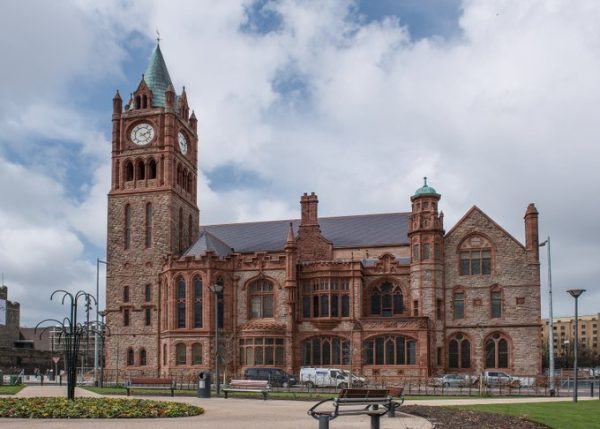 FULL planning permission to demolish buildings in the Rossdowney area of the Waterside to allow for the building of a convenience shop, off-licence, hot food units and petrol filling station, was provided by members of Derry City and Strabane District Council's Planning Committee on Wednesday.
Members of the Planning Committee, attending a socially distanced meeting of the committee at the Guildhall today, heard how the application would see the demolition of the buildings on the site at 1 Rossdowney Park and 10 Rossdowney Road to facilitate the proposed new shop, petrol station and food units.
Parking and servicing arrangements, including access to the sites, were included with the proposed plans.
The meeting heard how the proposal involves the demolition of all buildings on site, including the existing Eurospar and hot food units and also buildings associated with the former Dale Farm Dairies to allow for the construction of a replacement convenience shop, off licence, two hot food units, petrol filling station and associated access, parking and servicing arrangements.
The gross floorspace of the existing retail and hot food development on the site is 1029sqm.
The site also includes commercial buildings with a gross floor space of 741sqm and a service yard, associated with the former Dale Farm Dairies, located to the rear of the existing retail development.
These buildings will be demolished and the service yard will be redeveloped under this proposal.
The proposed replacement convenience shop, off licence and two hot food units will have a gross floorspace of approximately 1192sqm. There will be a small increase in overall floorspace of approximately 163sqm.
It allows for an improved lobby and tills, wider aisles, post office counters, food preparation areas to comply with food standards requirements, customer toilet facilities and improved staff welfare facilities.
The replacement convenience shop and associated units will have a frontage onto Dungiven Road and also Rossdowney Road.
All representations presented at the meeting were given consideration by members.
Giving approval for the development, the Planning Committee heard how the proposal was considered in accordance with the DAP 2011 and that full planning permission be granted subject to a number of conditions.
Welcoming the decision, the Chair of the Planning Committee Cllr Christopher Jackson said this was a good news story for the Waterside and a very welcome investment for the local area.
He said this retail unit was widely utilised in the community and news that it is to be replaced with a new and modern facility would be greatly welcomed.
Wednesday's meeting was held at the Guildhall to planning committee and officials only and broadcast live to the public on https://derrycityandstrabanedistrict.public-i.tv/core/portal/home
Anyone looking for planning information on application forms, planning fees and planning applications are encouraged to visit the planning portal: www.planningni.gov.uk/public-access-info or contact the service directly by e mailing planning@derrystrabane.com or calling 028 71 253253.
Tags: