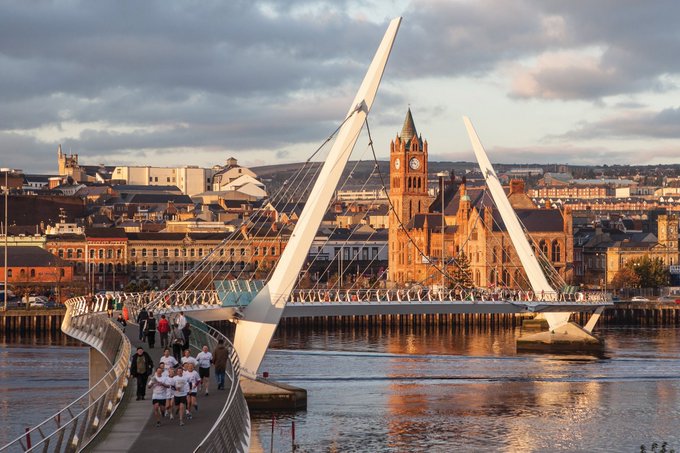 DETAILS of Derry City and Strabane District Council's planned phased operational recovery was outlined to Elected Members at the monthly Full Council meeting that was held virtually on Thursday.
Members heard how officers are working on all aspects of operational recovery in line with service delivery as well as working with stakeholders and partners on a strategic leadership role to put in place measures that will assist the City and District and wider North West City region recover fully in terms of its economy.
Members were reminded of the financial pressures and constraints that exist and the need for new thinking and creativity going forward.
Members were informed that physical, socially distanced committee meetings and Council meetings are set to resume in the Guildhall with the first meeting, the Governance and Strategic Planning Committee meeting taking place on June 30.
The Mayor is set to recommence a limited number of socially distanced external meetings in the Mayor's Parlour and Whittaker Suite from 29 June.
Elected members heard how plans are at an advanced stage for the return of increased staff numbers to the corporate Council offices on Strand Road and Derry Road in the coming weeks, following the completion of risk assessments and the provision of staff guidance and signage, with the majority of Council staff continuing to work from home if possible.
Reassurance was given that extensive work is being done on all aspects of health and safety in relation to staff and the public, including ongoing engagement and consultation with staff that are furloughed, dispersed and working remotely in terms of their health and safety, resilience and well-being.
The Tower Museum is to reopen to the public with reduced hours from 14 July and the Guildhall will reopen on the same date but with reduced hours and no external events.
The Alley Theatre and Conference Centre in Strabane will open Monday to Friday from 11am to 4pm from 14 July for tourist information centre and box office facilities only.
The café on site will remain closed and there will be no ticketed programming with the public encouraged to avail of their online programme.
As part of the Health and Communities Directorate update, elected members heard that there will be a phased reopening of leisure facilities based on public health advice and a review of the regulations.
It is anticipated that the end of June we will see a partial reopening of outdoor leisure for club based training, initially, with guidance from Sport NI and the relevant governing bodies.
Outdoor recreation facilities could also reopen for groups of up to 10 for non-contact sports and training, while plans are being progressed to introduce a COVID 19 booking system to ensure compliance with risk assessments and safe systems of work.
From an indoor leisure point of view, members were informed that it is anticipated that this would occur as part of Phase 4 of the NI Executive's Pathway to Recovery and that it would include the reopening of gyms and classes at Templemore, Riversdale, Foyle Arena and Derg Valley Leisure Centres.
Members heard about the significant financial implications associated with reopening the facilities to ensure social distancing with reassurance given that work is progressing to explore how gyms could operate with social distancing measures.
Members were informed that the return to swimming is subject to advice from Government but it is anticipated that it could be late summer, early autumn before it resumes.
Council will be engaging with the swimming clubs to discuss the resumption of swimming activity and proactively responding to further easements to put in place measures for access to sports and leisure facilities.
As part of the Environment and Regeneration Directorate update, members heard how Skeoge and Strahan Road sites remain operational, in addition to six recycling centres and all Council-owned cemeteries. Four recycling centres remain closed due to social distancing and traffic management requirements and stewarding at the City Cemetery is to be stepped down from this weekend. Additional signage will be put in place to remind people about social distancing measures.
Parks remain open to the public while play parks remain closed, but it is anticipated that play parks could reopen as part of the NI Executive's Step 3 of the recovery plan and inspections and maintenance works are ongoing in anticipation of reopening.
Council is working closely with the ROSPCA in relation to guidance on cleansing, hygiene and signage.
A key part of the Council's planned recovery is the work being done by the City Centre/Town Centre Recovery Group in partnership with key stakeholders to bring forward a number of positive initiatives aimed at co-ordinating the phased and safe recovery of Derry's city centre and Strabane's town centre.
The group recently participated in a physical walk through the city and town centres to identify a range of physical initiatives to mitigate the risk and provide support to traders and improve the physical environment.
A survey of existing businesses is currently being carried out with officers from across all sections of Council being involved in engagement with key stakeholders.
As part of the potential Department for Communities funding being made available, Council has prepared a business case that it has submitted to the Department for consideration, which includes proposals for a Shop Local Campaign, Deep Cleaning, Street furniture, infrastructure and planting, a Business Grant Aid scheme and an animation programme.
Council is working with Department for Infrastructure regarding potential areas to trade and to implement the Minister's initiative to increase walking and cycling, while additional funding has also been provided for an extension to the rural business grant scheme.
Following the decision by DFI to reinstate on-street parking enforcement, members agreed that off-street car parking charges and enforcement would recommence at all Council owned car parks from Wednesday 01 July.
Members also gave the green light for the Walled City Market planned for Guildhall Square on 18 July to go ahead.
Presenting the report, the Council Chief Executive John Kelpie reassured Elected Members that the Council's operational recovery is planned, proportionate, cautious and tentative with all decisions based on Government and Public Health guidance, with the health and safety of Council staff and the wider public at its core.
He said that while lockdown posed significant issues for Council, the recovery also presented a number of challenges and every decision is being considered carefully and with a measured and cautious approach.
He said Council were working closely with all Government departments, key stakeholders and partners on a collaborative approach to city and town centre recovery and that every effort was being made to ensure the City and District and wider North West City region can recover fully in terms of its economy.
Chairing his first Full Council meeting as Mayor, Cllr Brian Tierney thanked everyone for their input and extended his thanks to all Council staff for their continued hard work and dedication.
He paid tribute to those in the community and voluntary sector who are providing much needed support across the Council area in this time of need and urged people not to be complacent and to continue to adhere Government guidelines and advice around social distancing and handwashing to prevent the spread of COVID-19.
Tags: