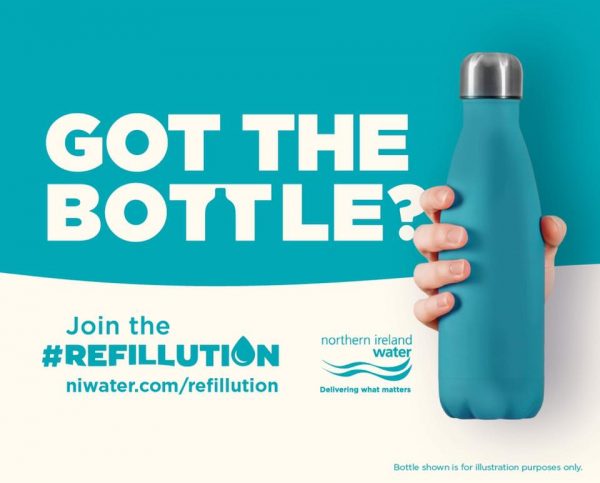 NI Water's campaign to encourage people to 'Join the Refillution' by choosing refillable drinking water receptacles over single use plastic bottles has completed its first year.
Over the last 12 months Derry City and Strabane Council have backed the campaign through its recycling outreach programme by actively encouraging local organisations to provide the infrastructure to refill containers with water and educating them on the benefits of refillable options.
Mayor of Derry City and Strabane District Council, Councillor Brian Tierney, said the Refillition campaign was part of a wider strategy to increase Recycling Rate across the City and District.
"We are pleased to support NI Water's Refillution campaign," he said.
"The use of refillable water containers is a small change to your behaviour that can have a significant impact on the local environment and your pocket.
"It reduces the amount of plastic that ends up in our landfills, streams and parks and saves on the cost of purchasing single use plastic bottles.
"Our region has a world class, 99% pure water supply so there is no reason not to drink the water from your tap so you can stay hydrated and reduce waste at the same time."
Angela Halpenny, Northern Ireland Water Head of Environmental Regulation paid tribute to the active role local Councils have played in the campaign.
"One year on from the launch of Refillution, we would like to thank the Councils for their work with us in reducing single use plastic right across their District.
"The water industry has a strong focus on the environment and we are committed to tackling the problems caused by plastic bottles and bottle tops, which block up our drains and rivers, and pollute our seas and shorelines.
"By refilling a reusable bottle, not only do you reduce plastic waste, you are also helping to drive down your carbon footprint."
Over the last year 206 primary and secondary schools in the North of Ireland have signed up to become Refill schools, pledging to reduce the number of single use plastic water bottles in school and encouraging all pupils to refill a reusable bottle with tap water.
NI Water have distributed over 75,000 water bottles to pupils across the country to help schools with their plastic free quest.
To celebrate the first year anniversary, NI Water's Education team will provide Refill packs to schools, with the aim of every pupil and teacher in the school, continuing to reduce plastic waste and refill a reusable bottle every day.
Pupils can take turns at being the Refill champion in their school and lead the campaign.
The pack will also include a pledge page and hints and tips on how to continue the Refillution.
If your school would like to become a refill school contact education@niwater.com to sign up.
For more details visit https://www.niwater.com/refillution/
Get involved and follow us on social media @JoinRefillution @niwnews.
For more on Derry City and Strabane District Council's recycling services and initiatives visit derrystrabane.com/recycling.
Tags: