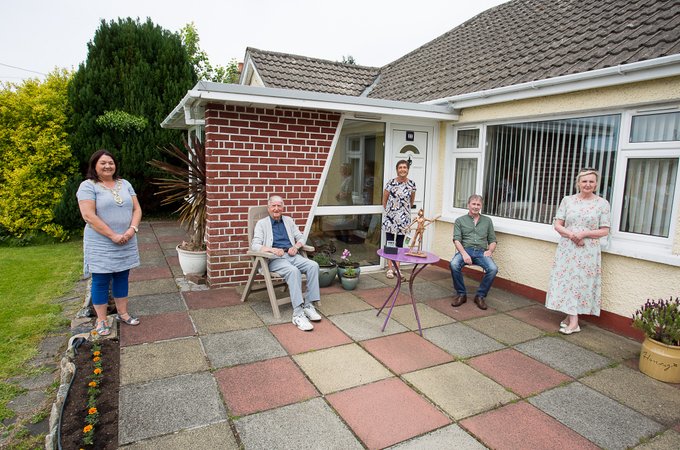 ONE of Strabane's best loved and longest serving musicians has received a visit from Derry and Strabane's First Citizen to mark the 70th anniversary of the formation of the Clipper Carlton Showband.
Art O'Hagan who is now 94 years old, had been due to receive a civic reception from Mayor of Derry City and Strabane District Council, Councillor Micheala Boyle, before the Covid 19 restrictions forced him to isolate in his home.
Bass player and volcalist Art is ​the last surviving member of the band who were formed in 1950 and were one of the most popular and infleuntial acts on the thriving Irish Showband circuit.
The original all Strabane lineup included Hugo Quinn on trumpet, Hugh Tourish on bass and Fergus O'Hagan on vocals while trombonist Victor Fleming joined in 1954.
Mayor Boyle visited Art in his Melmount Gardens home of Friday and presented him with a bespoke piece of artwork by Gloria Perry to mark the milestone.
"I was delighted to have the opportunity to honour one of Strabane's most successful ever musicians Art O'Hagan on this the 70th year since the formation of the Clipper Carlton band who toured nationally and internationally for decades," she said.
"The band are widely considered Ireland's first ever showband and enjoyed a phenomenally successful career, filling dancehalls all over Ireland in the 50s and early 60s.
"I was particularly pleased to find Art in such good form and I'm sure he is looking forward to taking part in a sing song with friends and family soon."
With their innovative use of costume, comedy and impersonation, the Clippers were considered ground breaking as they challenged the traditional orchestras and dance bands that had previously dominated the halls in Ireland.
Their set list combined jazz, dixieland, foxtrots and later rock 'n' roll and their pastiches included readings of Al Jolson, Louis Armstrong, Eddie Calvert, Elvis Presley and the Everly Brothers.
The most popular live act in Ireland during the mid-late 50s, they were highly influential in inspriring a generation of showbands who dominated the dancehall circuit in the 60s.
In 1985, the Clipper Carlton were reunited and continued to play shows until the untimely death of their leader Hugo Quinn in October 1989.
Tags: