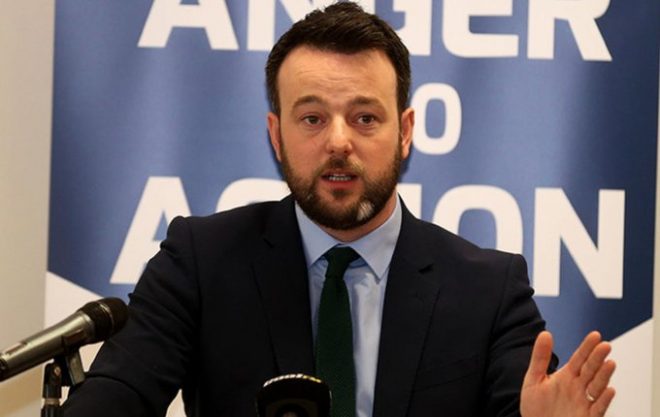 SDLP Leader Colum Eastwood has said that the British Government must abandon its fixation with crashing out of the EU at all costs and request an extension to the transition period.
In a call with Prime Minister Boris Johnson and other opposition leaders today, Mr Eastwood said that it is now impossible to resolve the negotiations comprehensively before July's extension deadline while the machinery of governments across these islands is focussed on the COVID-19 crisis.
The Foyle MP also quizzed Johnson on North-South data sharing arrangements to facilitate effective Covid-19 contact tracing but received no substantive answers.
Said Mr Eastwood MP: "This British Government is out of control.
"The COVID-19 crisis is continuing to claim lives and we are hurtling toward the July deadline for requesting an extension to the Brexit transition period.
"Yet Boris Johnson's attention and political capital has been totally consumed by his baffling defence of Dominic Cummings.
"There is no sense of priority.
"If the administration was serious about moving on, Cummings would be moving out.
"As the global health pandemic continues to occupy the efforts of governments across these islands, it's clear that there will be no comprehensive resolution to the Brexit negotiations in the time left.
"In those circumstances, Johnson must set aside his ego and request an extension to the transition period in the interests of people, business and communities here.
"The SDLP will be making that proposal to the Northern Ireland Assembly and the Executive next week.
"I also raised concerns about North-South data sharing arrangements.
"We need a data sharing framework that allows the free flow of sensitive information to facilitate an effective COVID-19 contact tracing operation.
"Otherwise our efforts to track and trace the virus will be critically undermined, particularly in border areas.
"Unfortunately, it's clear that Johnson doesn't understand the urgency and doesn't have the capacity to make this a priority issue.
"The health of people on this island cannot be risked for the sake of Boris Johnson's narrow agenda.
"An extension to the transition period is a urgent imperative," added the Foyle MP.
Tags: