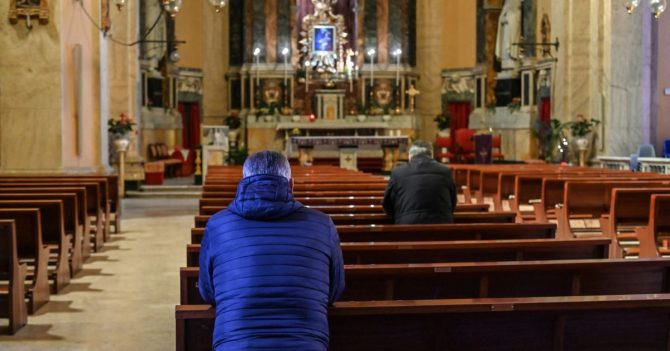 PRIESTS will be asked to distribute holy Communion from behind glass screens or wear visors as part of plans to resume public celebrations of Mass.
New details have emerged of the steps being considered by the Catholic Church to get services back on track safely in the coming weeks.
Among the options for Holy Communion would be a glass screen with an opening at hand level at all distribution points or priests having to wear a transparent visor when administering communion to people in their seats.
The details of a new draft plan, being discussed by the Church hierarchy and revealed by The Irish Catholic newspaper, will also see vulnerable and older parishioners being asked to stay home rather than attend Mass.
They will be advised to continue participating on webcam or on radio for the moment and, if they wish, arrange for a family member to bring them communion, while observing the required sanitising of hands.
Priests will also have to work with their own parish councils to calculate how many people their churches can safely hold and clearly display this figure.
They would devise a parish programme to allow people to come from particular townlands or housing estates to a designated Mass on a particular day, so that everyone can come at least once every few weeks on Sunday.
In the past week, many churches in the North of Ireland have begun reopening for individual visits and private prayer as lockdown restrictions were eased.
The draft plan also envisages confirmation ceremonies taking place in mid-September but advises that such celebrations would be conducted by the parish priest and may have to take place in small groups over successive days.
The plan aims to ensure that all preparations are made so that churches are ready to move once the civil authorities in both the North of Ireland and the Republic give approval.
The Dublin Government has hinted that phase four of its roadmap – when public Masses are due to begin from July 20 – could be brought forward to the end of June if the virus continues to be successfully managed.
The 88-point programme, which is expected to be boiled down to key issues in the coming days, also bans choirs and congregational singing when churches re-open.
It suggested that dioceses prepare short videos similar to aircraft safety demonstrations to assist parishioners in correct behaviour when returning to Mass.
The document says: "It is clear that re-opening the pastoral life of the Church will be far more challenging institutionally than anything we have been through in the past few months.
"Our biggest challenge may be lack of motivation to do all that is required on the part of some, and unbridled enthusiasm to do everything on the part of others.
"It needs to be clearly understood, however, that churches will only be able to re-open for public liturgy when the proper procedures have been put in place."
Earlier this week, Archbishop Eamon Martin said it was "sad and disappointing" that the COVID-19 restrictions have lasted throughout the Easter season and congregations are still unable to gather physically.
Tags: