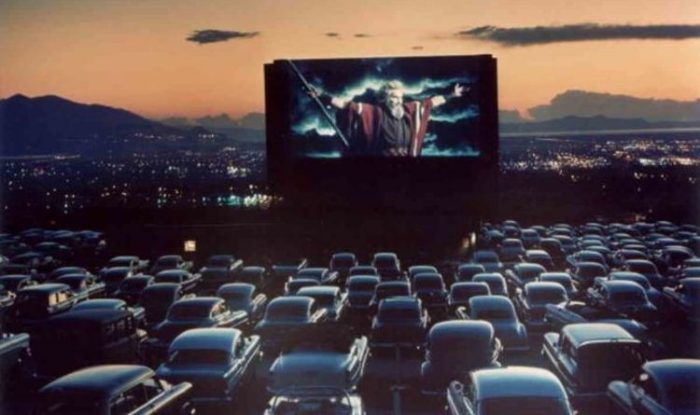 A Derry-based drive-in cinema company could be a box office smash when the Executive announce a relaxation of restrictions around entertainment, hospitality and tourism.
Full Swing Entertainment says it has been inundated with requests to screen movies here in a hark back to the 1950s of outdoor drive-in cinemas.
And Monday's announcement by the Executive permitting drive-in film nights came at a crucial time for Full Swing Entertainment throwing it a potential financial lifeline.
The firm, based on the city's Curryfree Road, has been providing outdoor and drive-through cinemas as part of its mobile community entertainment business since 2004.
The company is owned by Louise McClelland and her husband Ronnie.
Louise said they have been flooded with calls from all over the province asking them to organise a movie night for their community.
Mrs McClelland explained: "I actually didn't hear the announcement that drive-in movies were included in the first step of the easing of the restrictions.
"So when my phone started ringing off the hook that day, at first I couldn't figure out why.
"Since then it has been non-stop, which has been absolutely brilliant and has been a major lifeline to us since the lockdown was announced.
"We have been putting on drive-through cinema events for community groups for the past 16 years, so we already have all the equipment.
"We provide the staff to organise the event and we already have public liability insurance, so the people who have called us have nothing to worry about, it is completely hassle-free for them."
Mrs McClelland said staff have carried out site visits to Belfast and around the Causeway Coast, where community groups have already received their funding for summer events.
She added: "Obviously, they can't spend it on amusement rides, so they have switched to this, knowing it is safe for people to come to and that we can provide it for them right away.
"We have a number of screens available, so depending on the size of the events we can provide a number of different screens, but for the drive-in event, we have our huge screen.
"Previously we had to go through Ofcom for a licence to broadcast, which could take up to three months.
"But we invested in in-car speakers and transmitters, which means that we can go immediately."
The selection of movies is a matter of choice, but Mrs McClelland said musicals work best – allowing for audience participation.
She added: "For about 50% of the drive-in cinema events we have done, it has been Grease that we have been asked for because everybody loves it.
"But over the past few years The Greatest Showman has also been very popular.
"Musicals are the best because people can sing along.
"But Star Wars and the Disney movies are also big hits with audiences."
Cinemas were shut here once lockdown was introduced in March, but drive-in cinemas, drive-in churches and drive-in music events were among a series of changes announced on Monday.
It came at just the right time for the McClellands, even if it is only part of the overall entertainment experience they usually cater for.
Their company, which also provides a range of amusements, was facing a major hit.
Added Mrs McClelland: "The lockdown has been disastrous for us because we had loads of bookings.
"We lost bookings from before St Patrick's Day, so it was not looking good, but being able to take this one aspect of our business back out on the road has been a great help."
Tags: