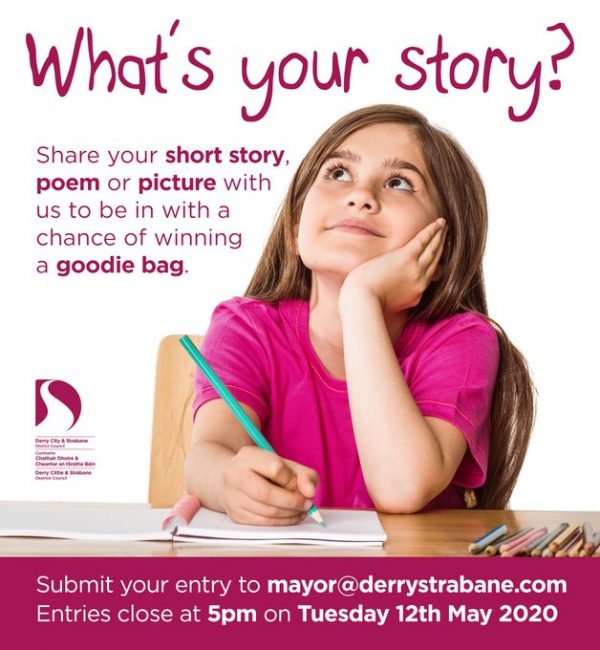 A REMINDER to local creative kids that you have just over a week to share your stories, pictures and poems capturing the unique experiences of the ongoing Coronavirus situation.
The Mayor of Derry and Strabane, Councillor Michaela Boyle, launched the competition in April, to encourage young people to express their own experiences of the challenges and of course the fun family moments of life at home.
Entries can be submitted in the form of paintings, drawings, poems and short stories showing the positive highlights that have made a difference to people's lives at this difficult time.
The competition will be broken up into two age groups – Primary one to Primary three children, aged 4-7 years old, and Primary four to Primary seven children, aged 8-11.
Entries will close on Tuesday, May 12, when the Mayor will select a winner and a runner up for each category (picture or poem) from each age group and they will receive a goody bag of prizes.
Mayor Boyle said that she wanted to give young people across the District a way of expressing their feelings creatively, while also acknowledging the fantastic way our young people are coping with new ways of life during what is an anxious time for many.
"I have been so impressed with how well the children of our District have coped with the unique and unusual challenges that have been presented by a life in lockdown," she explained.
"I know so many of them would love to be out playing in the sunshine with their friends, but they have been so good in following all of the rules and listening to their parents and guardians to keep themselves, and all of us, safe.
"I think they should all be really proud of themselves.
"Although I'm sure there were a few excited faces about getting out of school, it's still important to do some fun learning activities at home.
"This initiative is a great way to channel that creative energy, to express themselves and also to share some of those special moments we have all enjoyed as we spend more time with our families.
"I have already received some fantastic entries, which have been such a joy to read.
"I'm looking forward to receiving lots more stories, pictures and poems!"
Entries can be submitted by emailing mayor@derrystrabane.com.
Please include your contact details and the name and age of the child.
The deadline for entries is Tuesday 12th May.
All entries will be added to the Tower Museum's 'A Day in the Life .. Your Stories' project.
The entries may appear on the Museum's social media and website pages: https://www.derrystrabane.com/towermuseum
All information provided will be subject to the strict guidelines set out in Council's Privacy Policy.​
Tags: