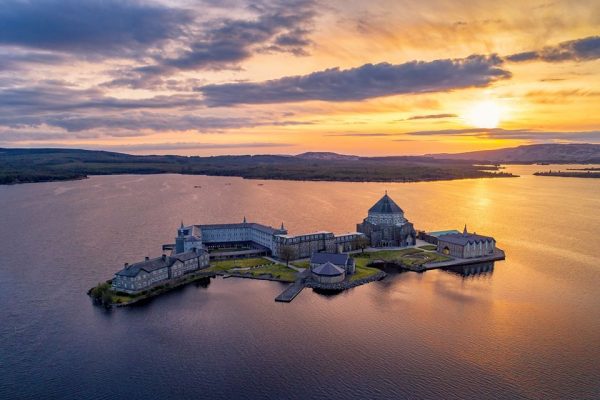 BISHOP of Derry Donal McKeown has called on people to join him on a "virtual" Lough Derg pilgrimage next weekend.
Bishop mcKeown has invited people to join him next Friday, May 1 to fast and pray and ask God "to free us from this pandemic; to comfort those who have been afflicted with this pandemic and to ask God for the wisdom to know how to live now and in the aftermath of the pandemic".
It is proposed that the time of prayer and penance take its shape from core elements of the 3-day Lough Derg pilgrimage.
Bishop McKeown said that this period of uncertainty was "a time when it is helpful to provide people with some focal point around which we can pray for an end to this pandemic, and comfort those who have been affected – many have suffered and have put their lives on the line. And we ask for wisdom on how we can best live and pick up the pieces after this pandemic".
"I will do a 24 hour fast and prayers myself and if people want to join me we will take some elements of the Lough Derg practice," he added.
Bishop McKeown said Lough Derg had a special place in the hearts of many people in the Diocese, and there were local people who walked the whole way to Lough Derg from Derry city each year, a pilgrimage which he himself has previously led on foot one year.
"Lough Derg actually comes within a couple of miles of this diocese and there is very much a local connection," he said.
"Lough Derg was known in the Middle Ages and there is a fresco in Italy from the 1300s of Lough Derg.
"It has been a place of pilgrimage for a long, long time and this is also an opportunity to connect to the history of Celtic traditional spirituality and going into our roots."
Bishop McKeown said at this time during the Coronavirus outbreak, in a world utterly changed, many were looking for answers and seeking truth and guidance in their lives and often people were finding comfort and solace in online services and prayer.
"A lot of the services on the webcam are being followed by a large number of people. At the moment nobody is speaking very much meaning into the crisis, there is a lot of data on cases, what to do, but people are wondering, 'Is it all mad and meaningless or is there a God, does the cross and Resurrection mean anything?'
"There are a lot of people looking for answers and I hope we can help them develop on their spiritual journey."
Each person across the Diocese is invited to participate in whatever parts of the penitential pilgrimage that they feel able to adopt.
If anyone is suffering from weakness or ill health, they should not overexert themselves. At the heart of the full Lough Derg pilgrimage are the following elements:
Fasting:
To join with the Bishop you are invited, if you are physically able, to adopt the Lough Derg Fast from 12.00 midnight on Thursday night until after 7.00am on Saturday morning.
The fast consists of water or black tea or coffee (sugar is permitted) with dry bread, toast and oatcakes at one time during the day.
You can drink water, tea or coffee anytime.
The Vigil will end with Mass at 6 am on Saturday, May 2.
Praying the Lourg Derg Stations:
Throughout the first day, participants on Lough Derg would normally pray three 'Stations' outside. However, in this case, participants are invited to pray three Stations at home during the course of the day.
During the Night Vigil, four Stations are prayed.
Bishop McKeown proposes to stay in the Cathedral during Friday night and lead the four Stations on the webcam – at 12 midnight, 1.30 am, 3 am and 4.30 am.
Tags: