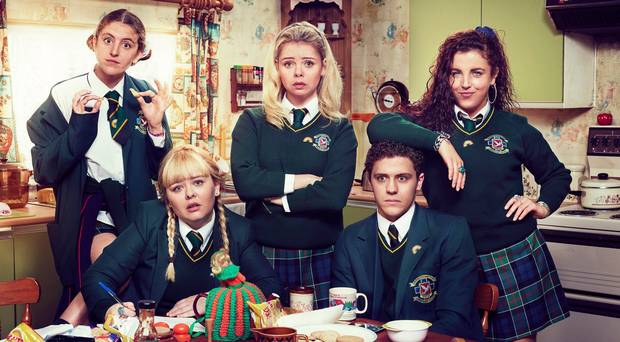 DERRY Girls stars Saoirse-Monica Jackson and Louisa Harland have reprised their roles from the hit show for a spoof message from a bunker in 1996.
The video sees cousins Erin Quinn, played by Saoirse-Monica, and Orla McCool, played by Louisa, having taken shelter in an airing cupboard to escape the riots on the streets of Derry, amid peace negotiations breaking down in the North of Ireland.
The pair have set up a camcorder to document their lockdown experience for the benefit of future historians.
"We've been ordered to stay in our homes by the authorities," Erin says.
"You mean our mammies?" Orla responds.
Erin continues: "We've taken the brave decision to record our experiences for future historians."
Isolating with the #DerryGirls @SaoirseJackson @louisa_harland pic.twitter.com/2yal4TpGiR

— Channel 4 (@Channel4) March 31, 2020
However, all Orla can think about is Coco Pops and missing her toes, leading to an argument that sees her decide to take up residence in her mammy's wardrobe instead.
Saoirse-Monica and Louisa recorded the sketch while in lockdown amid the Coronavirus pandemic, with the video appearing on Channel 4′s Twitter account alongside the hashtag #StayAtHome.
The pair, who are close friends away from the sitcom, were able to film the skit without breaching government guidance on isolating and social distancing as they live together.
Lisa McGee's nostalgic series, which depicts the lives of a group of teenagers growing up in the Maiden City in the 1990s amid the Troubles, became Channel 4's highest-rated comedy for over a decade and the most-watched show in Northern Ireland on record.
The show has also been reaching a new global audience since its debut on Netflix.
It was confirmed last year that a third series had been commissioned.
But the recording of the third series, which was to take place in Derry in the next few weeks, have now been put on hold over the Coronavirus pandemic.
Tags: