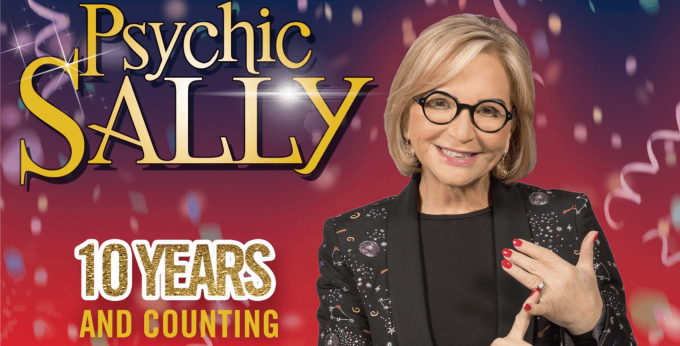 AFTER her gripping appearance on Celebrity Big Brother and another successful tour, 2020 sees the nation's favourite Psychic take to the stage across the UK, Europe and Australia for her all new '10 Years and Counting' tour.
The show builds on Sally's years of experience as the UK's most popular touring medium and sees her back for an 11th year in front of live audiences, sharing her remarkable gift in a show unique to every venue.
Sally brings the dead to life with her trademark sense of fun and intrigue in an interactive stage show that will leave Alley Theatre audiences gobsmacked.
"My Ability allows me to harness the energy around individuals in the audience and pass on messages from their loved ones who have passed with incredible accuracy," she explained.
"I call every message validated a wonder moment.
"So take your seats, relax, be open minded and ready to come forward if you think the message is for you.
"Sometimes messages are shocking, sometimes they are heart-breaking and sometimes they are just plain bizarre but they are always entertaining and ultimately audiences are uplifted and leave full of hope.
"I can't wait to be back on the road with the new ten years and counting tour.
"I have been so privileged to meet thousands of people up and down the UK over the last 10 years and I am as excited as ever to bring my show to a theatre near you.
"It is a real privilege to be able to stand in front of a live audience and give out messages.
"Spirit moves in mysterious ways but is with us always.
"Open Mediumship messages are a pure channel of spirit letting us know they are there, at peace, and always with us.
"When you come to one of my shows you will be able to see spirit working in all its glory"
Appealing to young and old alike Sally has dragged mediumship into the 21st century with her love, laughter and warmth.
Now comes your chance to experience what makes Sally so unique and one of the foremost experts in her field, as well as a celebrity, author and accomplished performer like no other.
To book tickets for Sally's show at The Alley Theatre on Thursday, April 2 , call Box Office on 02871 384 444.
Or visit www.alley-theatre.com for more information.
Tags: