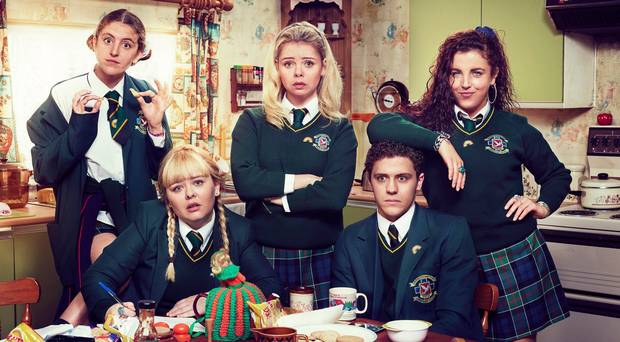 CHANNEL 4's hit sitcom Derry Girls has been shortlisted for a literary prize in memory of a British ambassador to Ireland who was murdered by the IRA.
Also shortlisted are Milkman by Anna Burns and journalist Sam McBride's book Burned about the 'cash-for-ash' scandal.
The Christopher Ewart-Biggs Literary Prize, which is now in its 26th year, is worth £7,500 and will be announced in Dublin in April 2020.
It is awarded to works which promote peace and reconciliation in Ireland and promote greater understanding between British and Irish people or inspire closer cooperation with the EU, ideals held by Mr Ewart Biggs, who was murdered in 1976.
The other works shortlisted include Country by Michael Hughes, which re-imagines the Iliad set along the border, and Say Nothing by Patrick Radden Keefe. It is his account of the 1972 IRA murder of Jean McConville, which also won the 2019 Orwell Prize for Political Writing.
Israeli academic Guy Beiner is shortlisted for his work Forgetful Remembrance: social forgetting and vernacular historiography of a rebellion in Ulster.
It has already won the the 2019 George L Mosse Prize, the 2019 Katharine Briggs Award and the 2019 Irish Historical Research Prize.
Another separate prize of £7,500 will be awarded this year to a work dealing with the implications of Brexit.
RTE's Europe editor Tony Connelly received a nod for his book Brexit and Ireland, while political sociologist Katy Hayward has been nominated for her Twitter account @hayward_katy.
Also nominated are economist and historian Kevin O'Rourke for his book A Short History of Brexit: from Brentry to Backstop and Irish Times journalist Fintan O'Toole for Heroic Failure: Brexit and the politics of pain.
Tags: