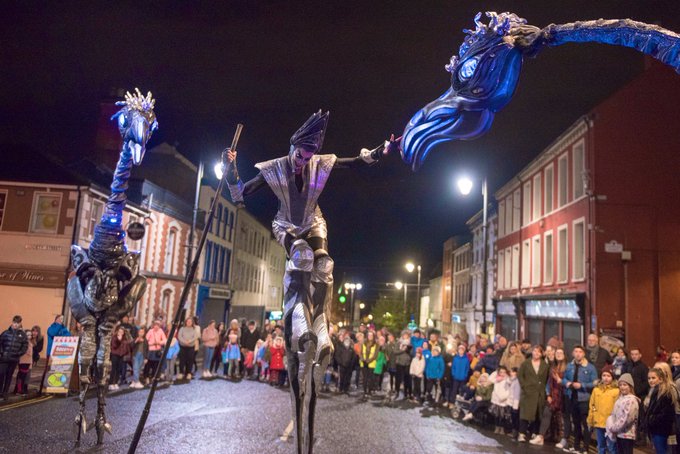 DERRY'S 2019 Halloween celebrations have been hailed the most successful to date in a report presented to members of Derry City and Strabane District Council's Business and Culture Committee this week outlining the achievements of the festival.
Members attending the monthly meeting of the Committee this week heard how the festival has grown to become one of Europe's largest Halloween festivals and that 2019 attracted a record 140,000 people to Derry and 5,000 in Strabane on Halloween night 31 October.
Aeidin McCarter, Head of Culture with the Council told members that 2019 was the best performing year for Derry Halloween that saw an increase in visitor numbers over the seven days, with over 16,500 bed nights and an 84% average hotel occupancy across six nights and 99% occupancy in the city on Halloween night.
She outlined to members that 51% of visitor numbers were local, 19% from the rest of Northern Ireland and 30% from outside Northern Ireland.
Members heard that one of the biggest highlights of the 2019 programme was the Awakening of the Walls animated trail around the City Walls and Walled City and the involvement of international acts in partnership with local community based arts organisations was instrumental to that success.
An update into the extensive marketing and press campaign that was delivered to a local, national and international audience to capture new audiences and raising awareness of the festival was also provided.
Members heard how a £98,000 marketing budget was used to secure outdoor, TV/radio, print and digital advertising across NI, RoI and GB.
The festival also received record interest from both national and international media outlets with €8.2m/£7m worth of free PR coverage secured across print, broadcast and online media outlets with a reach of almost 240m people, and a major digital campaign that recorded significant engagement across all social platforms.
Looking ahead to 2020, Aeidin McCarter explained that Halloween night will take place on a Saturday and Council is keen to sustain the high audience numbers and positive media coverage with a full five-day celebration with a high level of programming to target the weekend visitor market.
She told members how the Derry Halloween programme is proposed to run from Wednesday 28 October until Sunday 01 November, to include the Awakening of the Walls, Legenderry Food Village, Samhain Sessions, City of Bones Carnival Parade and fireworks display.
She said the aim of the 2020 Strabane Halloween programme is to sustain the high audience numbers and further develop high quality programming to include Halloween Hay Sculpture trail, Shine Light lantern Programme, Haunted Market, Circle of Terror and a fireworks display.
Members were also given an update on funding and budgets for the successful delivery of the event as well as information relating to the ongoing works to secure additional programming for the festival.
Tags: