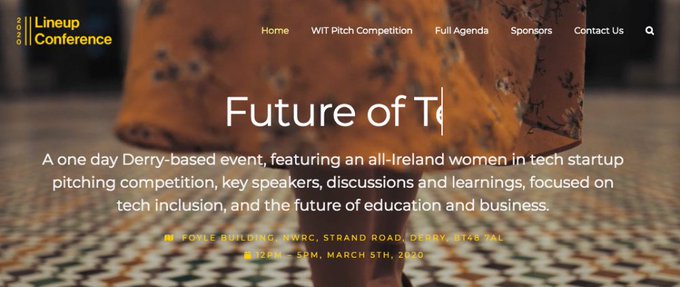 DERRY City and Strabane District Council and Startacus are inviting applicants for their women in tech pitching competition which will take place on Thursday 5th March, aiming to find an All-Ireland women in tech startup champion.
The competition is part of the 'Lineup 2020' event of Council's Enterprise Week, which will take place from Monday 2nd to Friday 6th March, and will consist of a series of activities, workshops and seminars in various locations throughout the region.
The Lineup 2020 Conference will have a core focus on women in tech, tech inclusion, the future of work, the future of education, and, of course, the women in tech pitch competition – with its underlying aim being to explore how each of us can take positive steps to create a fairer, more inclusive and ultimately progressive society.
The Startacus delivered event will offer up bite-sized keynote talks, short panels, discussions and startup pitches, with a key ambition of audience involvement and inclusion.
Key speakers confirmed so far for the event and evening social on March 5th include Dave Graham, Emerging Technology Messaging – Dell Technologies; Naomi Timperly, published author, speaker and panellist and one of the top 25 in Computer Weekly's Most Influential Women in UK IT 2019; Paula Kennedy Garcia, Vice President at Concentrix, and Mary McKenna, technology entrepreneur, angel investor, and women in tech champion.
'The 20' pitching competition will consist of 8-10 shortlisted startups with female founding teams from across the island of Ireland.
The teams will pitch on stage during the conference to win the accolade of 'The 20' champion for 2020 as well as a £2020 cash prize, and post-event support from 20 leading business and startup advocates who will be happy to spend time to see how they can help that startup grow and scale over the coming months.
Eight of the advocates have been announced so far and include Paula Kennedy Garcia, Vice President at Concentrix; Mary Anne Pierce, Founder and CEO of MAP Digital; Dan Sodergren, Tech and Digital Marketing media expert; Emma Jones MBE, founder of Enterprise Nation; Bruce Walker, CEO & Co-founder at FutureX; Natalie Novic, Chief Community Officer at Startup Boost; Elaine Burke, award-winning Irish media professional and editor of Silicon Republic, and Daniel Saunders, Early Stage Investor and Chief Executive at L Marks.
The startups will pitch during the conference to an estimated 200-250 attendees, with a number of industry relevant judges ready to score their pitches.
The winning startup will then be announced at a networking and social event that will run from 6pm to around 8.30pm that evening.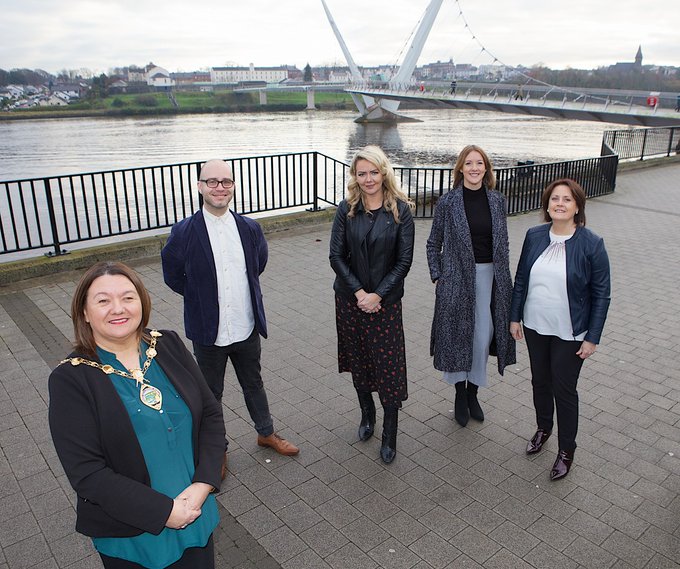 Startups must have at least a 50% female founding team, have raised less than £150,000 in investment or funds, have been in operation for less than four years, and be able to demonstrate how their digital/tech startup has the potential to grow and scale.
Free tickets for the Lineup 2020 conference are available here: https://www.eventbrite.com/e/lineup-2020-tickets-92343910121
You can apply for 'The 20' pitch competition here: http://form.jotform.com/200304508370039
Applications will be open until 27th February, though all startups who apply by Friday 21st February will be shortlisted ASAP and take the first allocated slots to pitch.
Interested startups can also reach out to Alastair Cameron, Co-founder of Startacus, directly via alastair@startacus.net to discuss their application.
For full details of the Enterprise Week programme, visit www.derrystrabane.com/enterpriseweek
Keep up to date on Social Media by following @Business Support Derry Strabane on Facebook, @dcscbusiness on Twitter and using the hashtag #EW2020.
Tags: