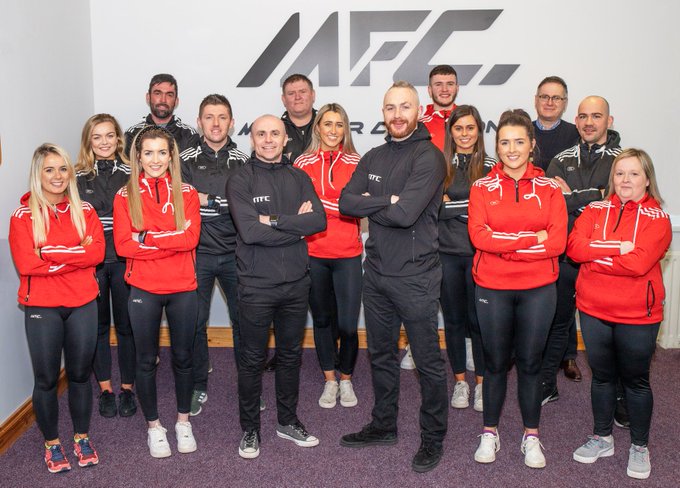 MFC Sports Managing Director Sean O'Neill has praised the 'invaluable' Business Boost programme for helping them reach the next level.
MFC (Made for Champions) specialises in making premium quality and high design sportswear for clubs and organisations across Ireland and throughout the world.
They took part in the Derry City and Strabane District Council run programme between August and September 2018.
Business Boost is part financed by the European Regional Development Fund under the Investment for Growth and Jobs Programme 2014-2020, with the aim of providing specialist business support to micro and small enterprises within the Council area.
MFC used their Business Boost opportunity to apply for a Special Financial Assistance (SFA) grant to Invest NI and, as a result, received £30,000 to support the creation of six new jobs covering customer service, order management, logistics and despatch.
The Derry based company also received a £7,200 grant supporting market development initiatives, including a website upgrade.
After opting to leave his job as a primary school teacher, former Tyrone GAA county player Sean started the company with close friend and Dromore GAA team-mate Fabian O'Neill in 2016.
"In 2011 I was studying to be a teacher and recognised that clubs loved merchandise like branded mugs for their events and members.
"I created a brand called Mugs for Clubs and used my mum's kitchen to add the finishing touches – it got me through university really," he explained.
"Mugs for Clubs led me to investigate the market for quality sportswear and I soon recognised the demand for highly designed quality team and leisurewear. This eventually saw the birth of MFC Sports."
In a competitive market, Sean explained that the company knew that with the right support they would be able to grow – and that was where the Business Boost programme came in.
"The Business Boost experience has been invaluable for us," he admitted. "We were lucky enough to be assisted by Peter Kelly who brought senior level business knowledge and experience to MFC Sports, as well as an amazing network of contacts.
"He brought massive added value across all areas of the business to the extent that he is now involved with us at a senior level and is Chairman of our Executive Team.
"Of course a very successful business needs a good team and Business Boost gave us the chance to strengthen and restructure our management team and to bring in new staff in key business areas."
MFC began from an office on Spencer Road, but have recently moved into much larger premises in Glendermott Business Park, with plans to open a second office in Omagh.
For Sean, staying local has always been part of the plan.
"When I think of Derry I immediately picture a vibrant city with hard-working and passionate people who love their sport.
"Naturally we always have one eye on how we can expand the business geographically, but at the minute Derry is serving us well and it is great to be local," he stated.
"There's more going on in the city than people realise, and everyone has been hugely supportive of us, for which we are very grateful.
"Dromore is my home and always will be, but I'm delighted to be set up in Derry. It's a fantastic base from which to grow our business locally, nationally and internationally."
Since starting the Business Boost programme 16 months ago, MFC have seen benefits in every area, including a full management restructure, establishment of an annual business planning and review process, as well as the appointment of three full-time sales managers, including Tyrone GAA legend Joe McMahon, who will be working with schools throughout Ireland.
They have recently carried out a full rebranding exercise, set up a new website complete with E-commerce, and developed a vibrant and exciting new range of sports designer wear. Crucially, they have also increased turnover since the end of year one by 1200% in only three years.
Sean is hopeful that MFC's success will only continue to grow in the years to come.
"Sport is massive around the world. We continue to focus on the highest levels of design and quality matched with an incredible level of customer service," he said.
"We see our clubs and sporting organisations as partners, not customers. We will offer them the best and sharpest gear on the planet and offer customer service at the next level. We love what we do."
For more information on the Business Boost programme, visit https://www.derrystrabane.com/businessboost
Tags: