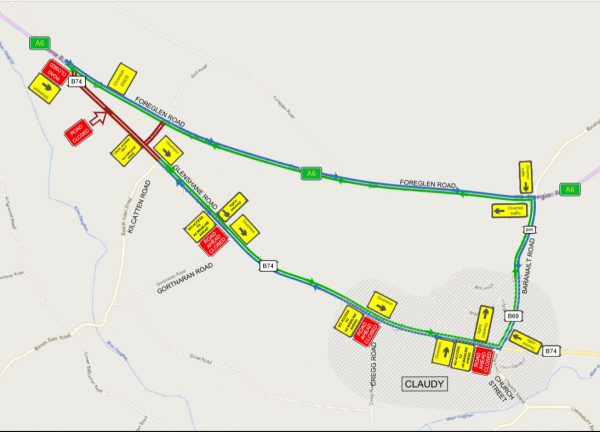 THE Department for Infrastructure have released details of a road close as part of the A6 Dungiven to Drumahoe Dualling Scheme.
It has announced that B74 Glenshane Road will be closed from 7 pm on Friday, January 31, until 6 am on Monday, February 3, 2020.
Please follow the diversion via A6 Foreglen Road and Baranailt Road South and vice versa.
There are further details below:
A6 Mainline, 2 way traffic control from Baranailt Road to Ervey Rd (As required) -Mon to Sun 09:30 to 16:00 Daily-
Closure of B74 Glenshane Road – Fri 1900 to Mon 0600
2 way traffic control B74 Glenshane Rd – Mon-Wed 09:30 to 16:00 Daily-
2 way traffic control B69 Baranailt Rd – Mon-Sun from 08:00 Continuously
Mon to Fri 07:00 to 18:00 Daily-
Feeny Rd Haul Crossing
A6 Mainline Haul Crossing (near Gulf Rd)
Ballyhanedin Rd Haul Crossing
Ervey Rd Haul Crossing
Continuous –
Closure of Lismacarol Rd
3 way traffic control on Tirbracken/Gortica Rd
Mavis Rd closure
Gulf Rd Closure
Altagarran Rd Closure
Gortilea Rd Closure
A6 Mainline Hard shoulder Closure, West bound and Eastbound, from Foreglen Rd to Gulf Rd
Killunaught Rd Closure
Derrychrier Rd Closure
Closure of climbing lane from Ballyhanedin Rd to Muldonagh-A6
Closure of Lane one of climbing lane from Ardmore Rd to the Foreglen Rd -A6
Closure of Lane two of climbing lane from Ardmore Rd to the Mavis Rd -A6
Tags: