The action began at 8 am on Wednesday, January 8, in a second wave of protests over pay and staffing levels.
Royal College of Nursing (RCN) members at Altnagelvin Hospital joined the picket to call for pay parity and safer hospitals for both patients and staff.
More than 2,000 appointments and procedures have been cancelled across the North, including a number of elective caesarean operations.
The Health and Social Care Board said it expects "significant disruption". Information from health trusts on affected services can be found here.
Some schools for children with special needs will be closed as they cannot provide medical cover.
RCN director Pat Cullen told BBC Radio Ulster's Good Morning Ulster programme that nurses felt "bullied" by health officials.
Her comments followed a warning by the heads of Northern Ireland's health trusts on Tuesday that this week's strikes could push the system "beyond tipping point".
She said there was a feeling among nurses that they were an "easy target" for budgetary cuts.
"Nurses don't need sympathy, they need action," she said.
"We need a health service that doesn't have trolleys lined up in every corridor.
"Yet again we see responsibility being transferred to the lowest paid workers and nurses having to take the brunt for bullying now going on and saying that those nurses are responsible for the mess we find ourselves in."
Seamus McGoran, interim chief executive of the South Eastern Health and Social Care Trust, also speaking to BBC Radio Ulster, said staff were "making a major statement" through strike action and that trusts "completely support the staff in their legitimate claim for pay parity".
He added: "We are not blaming staff for taking industrial action, we understand why they have taken the action they have taken.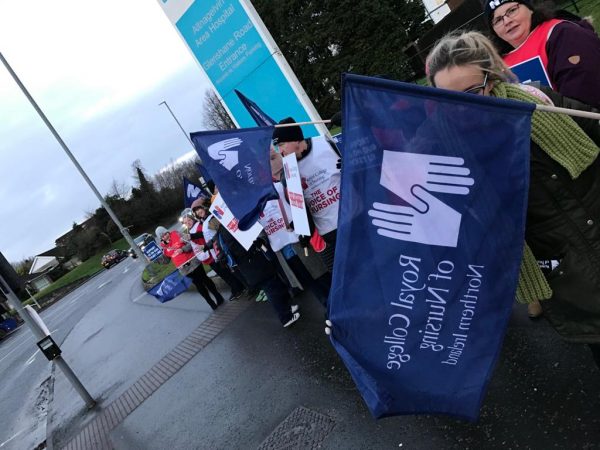 "It is very important for staff to keep calm in this situation."
But he said there were concerns about the timing of the action during the "busiest week of the year".
"It is probably the straw that potentially could break the camel's back.
"This is going to be a difficult day."
Services across health and social care will be affected.
Patients with a scheduled outpatient appointment or who are due to have an operation who have not been contacted by their trust should attend as normal.
Those patients whose service or appointment is cancelled will be notified by the trust. Appointments will be rescheduled.
All emergency departments (EDs) are expected to remain open.
However, with fewer staff, there is likely to be an impact on how quickly patients are seen and discharged.
A further strike involving members of both the RCN and health union Unison is due to take place on Friday.
The Department of Health has said it does not have the budget or the authority to meet union demands.
The first strike by Royal College of Nursing members took place in December. It was their first in the union's 103-year history.
In a statement released on Tuesday evening, the RCN called for "urgent measures to address unsafe staffing levels and deliver pay parity with colleagues from across the UK".
The statement said there were almost 2,800 vacant nursing posts in Northern Ireland and pay had fallen by 15% in real terms in recent years.
Ms Cullen said employers and the Department of Health had known about the planned strikes since November 2019.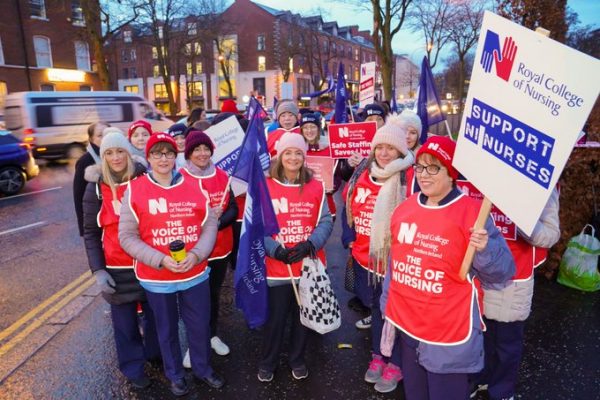 She said nurses had been left with "no choice".
"We all wish to see a rapid solution to this crisis," she said.
"However, this will not be secured by trying to blame nurses for the consequences of the decisions made by those in power."
A spokesperson for the Health and Social Care (HSC) organisation said: "Our clear message is if you are seriously ill or injured, then the emergency department is the place to go."
RCN nurses who are on strike are to receive a £45 support payment from the union.
Tags:
SCORES of nurses in Derry have joined around 9,000 colleagues across the North of Ireland in a 12-hour strike.