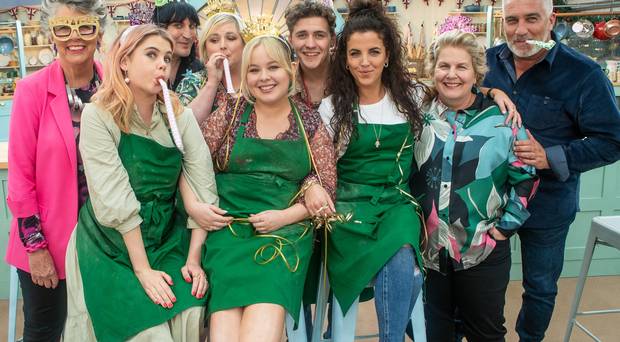 BAKE Off judges have revealed the stars of Derry Girls are "better at comedy than baking" after filming a festive show special.
Leading cast members Jamie-Lee O'Donnell (Michelle), Nicola Coughlan (Clare), Saoirse-Monica Jackson (Erin), Siobhan McSweeney (Sister Michael) and Dylan Llewellyn (James) failed to rise to the occasion in the famous tent, experts Prue Leith and Paul Hollywood have hinted.
Prue said: "I think they're better at comedy than baking, let's put it like that. But it's much more fun when they can't bake.
"Their signature was a trifle and some of our bakers added quite a bit of alcohol, which Prue loved a bit too much."
Fellow judge Paul added: "They weren't the best bakers we have had in the tent, but they were very entertaining and noisy.
The celebrity special episode of the Great British Bake Off will air on New Year's Day and Paul revealed that he and his co-stars dressed up in their honour.
He said: "For the intro, I got dressed up as a mother superior and Prue, Noel and Sandi all got dressed up as schoolgirls.
"It felt quite natural for Sandi, as she hasn't really grown since school. They all looked great."
Prue added: "Although Paul did look a bit sinister with the veil and everything."
The episode will also feature the London Community Gospel Choir to help see in the New Year and is the second of two Bake Off specials on Channel 4, coming after a Christmas Day one featuring previous contestants where the presenters get a seasonal makeover,as well as the tent.
Paul said: "Yes, the costume department found it hugely humorous to find a Christmas jumper with a silver fox on it.
"But it was so lovely in the tent with fake snow on the ground."
Nicola, who plays Clare Devlin, broke the news on social media last month that she and her co-stars were set to try their hands at the baking show.
She tweeted: "The News is Out!
"Derry Girls do Bake Off! Tune in on New Years Day to see if we burn down the tent."
The show will be screened at 7.40 pm on Channel 4 on New Year's Day, January 1, 2020.
Meanwhile, applications for appearing in next year's series of Bake Off close just days after the Derry Girls special hits the screens.
If you think you're in with a shot, you have until this Sunday, January 5, 2020 to enter.
Bakers from Northern Ireland have had mixed results in the past, with the best performer being Andrew Smyth from Holywood, who made it to the final three years ago.
Last year Imelda McCarron from Omagh made an early exit, while Iain Waters in 2014 was famously at the centre of the 'Bingate' scandal when a rival baker took his baked Alaska out of the freezer and it melted, causing him to throw it in the bin in a rage.
Work on the third commissioned series of Derry Girls is expected to start sometime in 2020.
Tags: