The 25-year-old actress has been addicted to the Channel 4 sitcom which will air a third series late in 2020.
But the makers of Derry Girls reckon Saoirse, who is tipped for an Oscar for her role in the movie Little Women, is just too big a star for the series, which shot to success with a string of unknown actors.
Ronan and other celebrity fans like Nadine Coyle have been politely told they can't be in the Channel 4 hit.
Show creator and Derry-born writer Lisa McGee revealed: "One of the most difficult things is when famous people want to be on the show. You have to try to shut out that noise.
"It's really, really important that you don't get seduced by that (fame).
"I think one of the big reasons actually people warm to the show is because there was nobody hugely famous in it.
"It wasn't a show built around anyone.
"I think I wasn't expecting the show to be a success.
"Really, I mean, I hoped enough people would watch it. You know, that would mean we could keep going for a second series maybe."
Now Lisa and her Derry Girls colleagues are looking forward to walking the red carpet on series three of the comedy.
"Saoirse would have loved to have had a cameo role on Derry Girls," said a showbiz insider.
"She laughs out loud at the stuff the girls get up to, but she is actually too famous to be on it."
"I absolutely love Derry Girls," said Ronan. "When I was filming Little Women, I just kept watching it as I missed home. I was working on such an American film that I watched Derry Girls because it really spoke to me."
Ronan — who is friends with namesake and Derry Girls star Saoirse-Monica Jackson — is an actress who is used to getting what she wants. She landed the role of Jo March in Little Women after telling the director Greta Gerwig to cast her.
Says Ronan: "I've never done this before, but I went up to Greta and aggressively tapped her on the shoulder and said, 'So, I know you're doing Little Women. I really think that I should be Jo.'"
She isn't the only celebrity fan wanting a piece of the action.
Former Girls Aloud singer Nadine Coyle, also from Derry, is desperate to appear in the show, too.
Saying she'd "love" to appear in Derry Girls, Nadine explained: "It's based on the same school I went to, the same Catholic school, so we have loads of similar experiences.
"I loved the first series so I'd love to do something."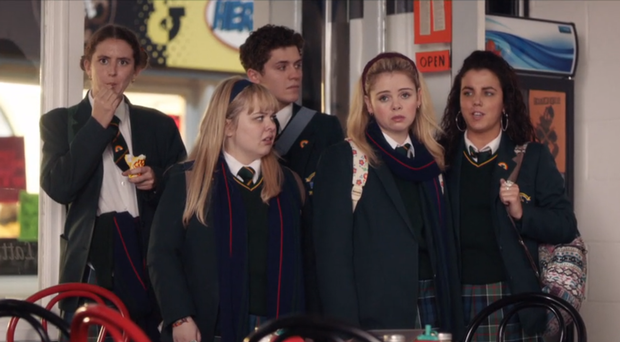 Derry Girls star Nicola Coughlan, who plays Clare Devlin, watched video clips of Coyle in a bid to perfect her Derry accent.
Another famous fan, Line Of Duty star Adrian Dunbar, from Enniskillen, was also hoping to land a role in the show.
Dunbar (60) said: "I love Derry Girls. It's going to be the middle of next year before we shoot another Line Of Duty so there's plenty of time to do other stuff.
"I'd like to do some comedy, I never get the chance to do comedy and apparently I can be quite funny.
"I'm looking for a sitcom.
"There's definitely a role in Derry Girls, for sure.
"I'm waiting for the call!"
Tags:
IRISH superstar Saoirse Ronan won't ever get to appear in the hit show Derry Girls even though she one of its most famous fans.