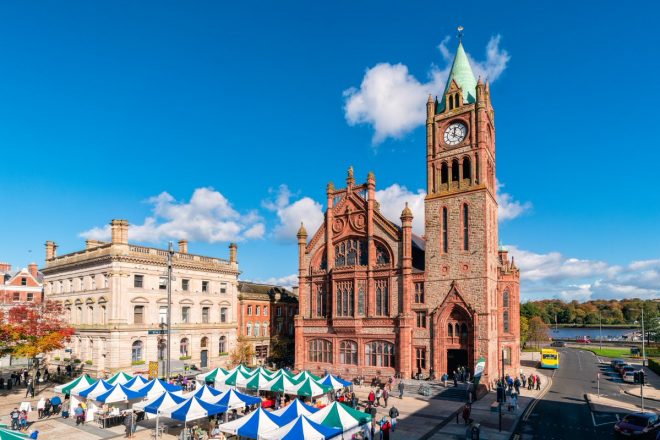 ON the ten-year anniversary of the Real Deal 'Fake Free Markets' campaign, local traders at the Walled City Market reaffirmed their commitment this week to ensuring only goods of the best quality will be sold locally.
The Walled City Market is one of more than 500 partnerships across the UK that has signed up to a nationwide consumer-friendly 'Fake-Free Markets' charter led by the National Markets Group (NMG).
The campaign protects shoppers, genuine traders and local businesses from the impact of counterfeit crime, reassuring consumers that they can expect to buy only genuine brands and quality goods when they shop at local markets bearing the 'Real Deal' logo.
The NMG is made up of a partnership of law enforcement, government and industry stakeholders, supported by the National Association of British Market Authorities (NABMA).
Derry City and Strabane District Council's Market Development Officer, Nicolle Walters, said it was important to send a clear message to counterfeiters.
"Unfortunately, particularly at this time of year in the run up to Christmas, we see counterfeiters trying to take advantage of consumers, selling poor quality, rip off goods.
"I am delighted to see our local traders taking a stance against this illegal activity and maintaining the high standard of product on offer here at the market.
"This benefits both shoppers and traders in terms of building consumer confidence and ensuring that safety and quality standards are met in full."
Patricia Lennon, National Coordinator of the 'Real Deal' Campaign for the NMG, said: "The Real Deal and 'Fake Free Markets' Charter has proved to be a huge reassurance for shoppers.
"We cannot praise highly enough the commitment we have seen from markets and Trading Standards services who have jointly signed up to the charter to protect their customers from buying untested, poor quality, potentially unsafe counterfeit products.
"In displaying the 'Real Deal' logo, a market gives reassurance to shoppers that it is a safe place to buy and sell. It also sends a strong 'keep out' message to any would-be traders in counterfeits who have no scruples when it comes to selling sub-standard products."
Both the Walled City Market and the Strabane Market signed up to the Fake Free Markets campaign in 2017.
A full schedule of dates for the 2020 local markets can be found at www.derrystrabane.com/Subsites/Walled-City-Market/Markets
More information on the Real Deal campaign and its 10th anniversary celebrations can be found at www.realdealmarkets.co.uk
Tags: