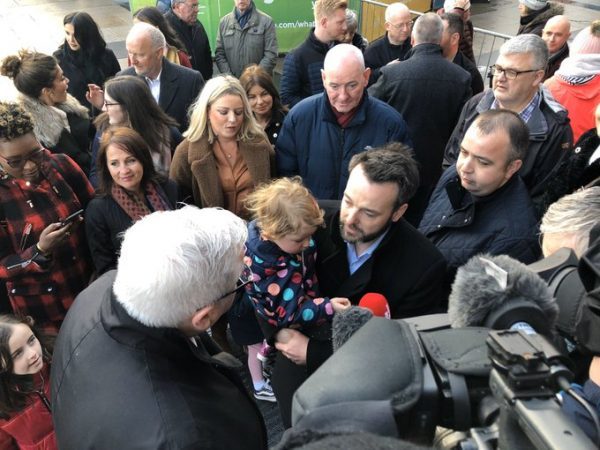 SDLP Leader and newly elected Foyle MP Colum Eastwood said today that people across the North have voted to send more MPs to Westminster to oppose Boris Johnson but they've also voted to send a clear message to the DUP and Sinn Féin that it's time to get back to work.
Mr Eastwood romped home in the Foyle constituency with a 17,000 majority over Sinn Fein's Elisha McCallion.
He said: "I am deeply humbled by the significant support I have received from the people of Derry, the support Claire Hanna has received in south Belfast and that the SDLP has received from people across Northern Ireland.
"Claire and I pledge to take the fight directly to Boris Johnson and his Government, right in the heart of Westminster.
"We will be there to vote against him and to speak against him as he seeks a reckless Brexit that we did not consent too.
"But this election was also about people sending a very clear message to the DUP and Sinn Féin.
"Our hospital waiting lists spiralling out of control, schools are unable to afford basic resources and vulnerable people are facing into a welfare cliff edge in a few months.
"It's time for politicians to do something about it and get back to work.
"Talks are due to begin on Monday.
"The SDLP is committed to securing a return to inclusive, power sharing institutions at Stormont that will address the crisis in health, the coming crisis in education and deliver real economic transformation across our communities.
"We have made compromise proposals, we are ready to get back to work.
"Others should join us," said the new Derry MP.
Of his win he described the massive swing to the SDLP from Sinn Fein as "overwhelming".
"The people of Derry want their voice to be heard at Westminster. That's the message we were getting on the doorsteps this past few weeks.
"The people really wished they had a voice in Westminster over this past two years speaking up for them.
"We got votes from right across the political spectrum.
"And they want us to speak up about health – one in four people are on waiting lists."
Tags: