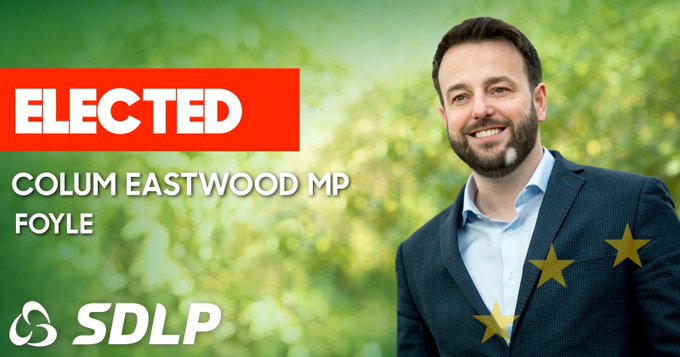 SDLP leader Colum Eastwood wrestled back Foyle seat from Sinn Fein with a massive majority over Sinn Fein candidate Elisha McCalion.
In 2017 she took the seat from the SDLP's Mark Durkan with a narrow majority of 169 votes.
But the voters in Foyle rejected her this time around and ave Mr Eastwood a massive majority of 17,000 votes.
The SDLP leader received 26,881 votes, against Ms McCallion's 9,771.
After he was returned as the new MP for Foyle, Mr Eastwood said: "This is a story about the revival of the SDLP but it's more about the message and desire of the people of our city and the people of the north generally.
"We hear you loud and clear, we know you want someone to go to Westminster to fight your case, to stand up to Boris Johnson, to protect us from Brexit.
"You also want us to get back to work in Stormont, no more excuses will be accepted by the people of our city or by the people of Northern Ireland."
Elisha McCallion congratulated Colum Eastwood on his win.
She said: "I look forward to working with you in the future. It has been an huge honour and privilege to represent the people of Derry.
"I will continue to fight for Derry tomorrow and every day. "Republicans don't retire"."
It was one of two seats the SDLP won in the Westminster elections.
In south Belfast, Claire Hanna won the seat from the DUP.
In another bloody nose for the DUP, Sinn Fein's John Finucane won the north Belfast seat, deposing Nigel Dodds by an almost 2,000 majority.
Tags: