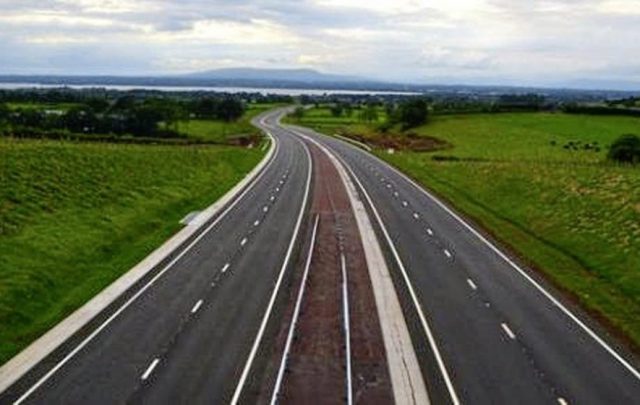 A SECOND section of a major upgrade to the Belfast-Derry road is expected to be completed this month.
The boost for motorists comes after 7 km of the new A6 route was opened between Randalstown and Toome in September.
Work on the 7.4 km Toome to Castledawson leg has continued since then and a short stretch of that section, near Castledawson, is almost ready.
A spokeswoman for the Department for Infrastructure confirmed that weather permitting, it will be open on next Monday, November 25.
However, only one lane in each direction will carry traffic.
The Randalstown to Castledawson work is being carried out as part of a £185m scheme designed to reduce travel times between Derry and Belfast.
Construction on the Graham Farrans joint venture began in June 2017 and is expected to be completed by 2021.
Work on part of the route close to Lough Beg has stopped for the winter as it passes through an area visited by Whooper Swans each year.
Campaigners and some local residents had opposed the work on this section of the road.
The area was made famous by the poetry of Seamus Heaney who before his death urged authorities to use an alternative route for the planned road.
Work has also continued on a £220m scheme between Dungiven and Drumahoe, near Derry.
A consortium involving Sacyr, Wills Bros and Somague began construction on the 25.5km stretch of the A6 in March last year and it is expected to be completed in 2022.
The project includes a bypass of Dungiven.
Earthworks are already around half-way complete and two bridge structures have been constructed.
The construction of an additional eight has also begun.
Roads expert Wesley Johnston said the project is making progress.
"I think it's going very smoothly," he said.
The Randalstown to Toome section was opened on schedule.
"It's a much safer road as well, there's no doubt it will save lives."
The expert said work was also going well on the Drumahoe to Dungiven scheme.
"They have done a lot of groundwork and there's construction going on now as opposed to digging," he said.
"It's going to be a great road, it's to a very high standard."
Tags: