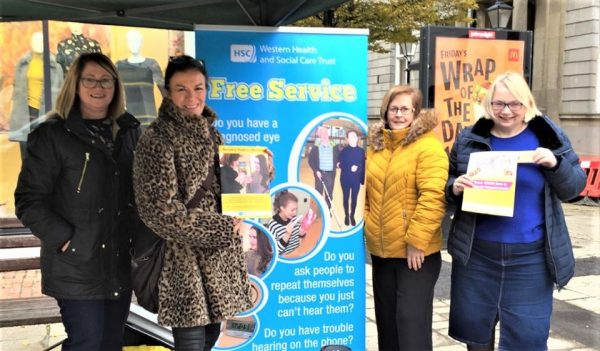 THE Western Trust Sensory Services Team is delighted to launch a new booklet "Sensory Support Services" a guide to services offered across the Western Trust area.
The Trust has two Sensory Support Service offices with one in Derry and the other in Enniskillen.
Speaking at the launch Martina Dempster, Manager of Sensory Services explained: "There are two Sensory Support Services Teams within the Trust based in Old Bridge Street Derry and Drumcoo Centre, Enniskillen.
"We work with people of all ages from children to older people and have extensive experience and knowledge of deafness, visual loss, dual sensory loss, tinnitus and other related issues.
"The updated booklet will provide useful information and support available to individuals, families and cares of people with and sensory loss."
Martina added: "The Sensory Support teams work closely with the families, carers and professional colleagues including audiology, ophthalmology and other social work teams as well as voluntary and community organisations.
"We aim to provide a service that promotes independence and enhances quality of life and will work with individuals to identify what they may need in relation to hearing loss/visual loss or dual sensory loss.
"Today we are holding an awareness session in town to allow the public try stimulation specs to try and help them understand the issues facing people with visual loss on a daily basis.
"I would ask that if you or a loved one is struggling with a hearing or visual loss or indeed both to make contact with the team on 028 66 324400 to see if we can help."
Contact details for Sensory Support Services:-
Old Bridge House, Glendermott Road, Derry, BT47 6AU
T: 028 71320167 / SMS 07796448367
Email: gloria.mcdaid@westerntrust.hscni.net
Drumcoo Centre, Enniskillen, Co Fermanagh, BT74 6DN
T: 028 66324400 / SMS: 07795650125
Email: martina.dempster@westerntrust.hscni.net
Tags: