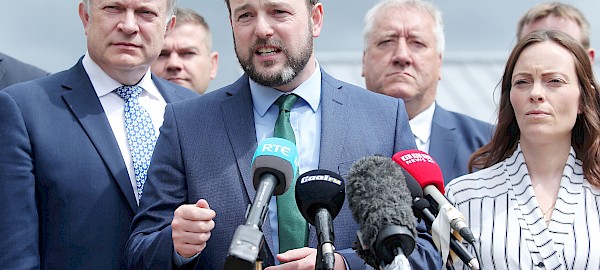 SDLP Leader Colum Eastwood has said that a proposed commitment to introduce an effective amnesty for soldiers involved in heinous crimes in the North of Ireland is unacceptable, an affront to victims and survivors and will be opposed by SDLP MPs.
Under the proposals, the Tory Party would amend the Human Rights Act so it does not apply to issues – including deaths during the Troubles in the North of Ireland – that took place before it came into force in 2000.
Said Mr Eastwood: "This Conservative Government is obsessed with the idea of granting amnesty to soldiers who committed grievous wrongs and heinous crimes during conflict in Northern Ireland.
"SDLP MPs previously stood in opposition to attempts to grant amnesty to the perpetrators of violence, effectively derailing legislation proposed by Peter Hain and backed by Sinn Féin.
"The legacy of our past must be dealt with comprehensively and ethically.
"We will oppose any proposals aimed at erasing the ability of victims and survivors to access truth, justice and accountability.
"If this appears in Boris Johnson's manifesto, it makes a mockery of the unreserved apology offered by David Cameron following the publication of the Saville Inquiry report.
"That day, a Conservative Prime Minister admitted that the actions of soldiers were unjustified and unjustifiable. Now, a new Conservative Prime Minister is seeking to whitewash the record. We will not let him.
"Uniform should offer no shield to accountability before the law.
"The sensitive balance of legacy investigations and institutions should not be offset by headline grabbing promises on a Tory manifesto.
"These reports further underline the need for MPs from Northern Ireland who will turn up to Westminster to face these proposals down," added the Foyle MLA.
Tags: