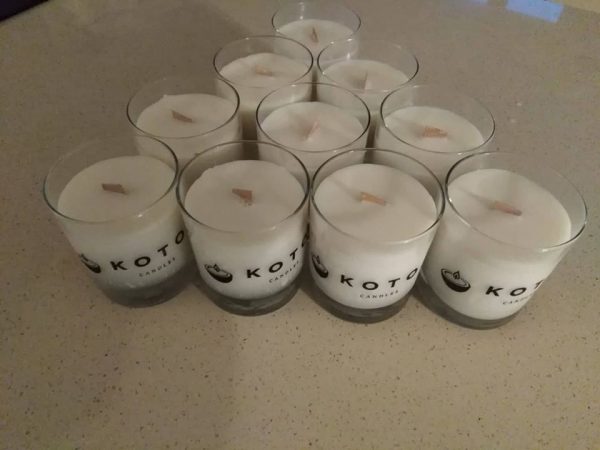 THE owner of sustainable scented candle and melt specialists Koto Candles is excited at the prospect of exhibiting her product range in her home town at the 2019 Guildhall Craft and Artisan Food Fair.
Catriona Hutton will share the Guildhall's Main Hall with over 40 of the finest crafters in Ireland when the fair returns from Friday November 22nd until Sunday November 24th.
Her products are made locally with only plant based wax which is sustainable and environmentally friendly and is fragranced using only pure therapeutic essential oils and wooden and cotton wicks.
"I absolutely love lighting candles at home but I was concerned about the increasing number of chemicals we were using at home," she explained.
"After doing some research into the options available, I decided I definitely wanted to use more natural ingredients to fragrance my home, anything similar already on the market was really expensive so I decided to make my own.
"Initially I made candles as gifts but people started asking me for them and I could see there was a genuine interest in candles made from natural ingredients.
"I created a Facebook page and the interest grew further through that.
"I then decided to do some small Craft Fairs to see how they went and it was a natural progression after that."
Kato Candles have a range of five fragrances: Zing (Lemongrass and Cedarwood), Wild (Mint and Basil), Rose (Geranium and Rosewood), Love (Lavender and Ylang Ylang), Yule (Orange and Cinnamon).
Catriona launches her range of gift boxes at the Craft Fair and has exciting plans to extend her product range in the New Year.
"I'm really looking forward to the Craft Fair as it's the biggest one I will have a chance to trade at so far," she continued.
"I'm really hoping to find new customers and I'm excited about being able to offer gift boxes for my candles, this has been something I have been sourcing and working towards for a while now.
"At the moment I have candles and melts for sale but I am in the process of developing reed diffusers which will match the fragrances already available. I also plan to launch a wedding range in the spring."
This event marks the start of a packed Council Christmas programme that includes Christmas lights switch ons across the City and District, the Mayor's Christmas events in Strabane and Derry and the Winterland Markets in the city centre.
The Derry switch on has been scheduled for Sunday November 24th while the Strabane lights will be turned on the day before on Saturday November 23rd.
The full opening hours for the Fair are Friday November 22nd 5pm – 8pm, Saturday 23rd November 10am – 6pm and Sunday 24th November from 10am – 7pm.
Visit derrystrabane.com/craftfair to view the full Guildhall Craft and Artisan Food Fair programme.
Tags: