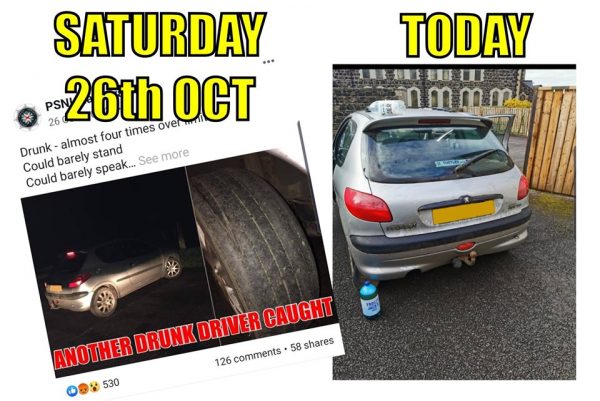 POLICE have praised the public for helping to catch a banned drunk driver less than a week after he appeared in court for being four times the limit behind the wheel of his Peugeot car.
And when he was caught for a second time yesterday, Tuesday, November 5, he was yet again FOUR TIMES THE LIMIT.
He is due in court today for a further hearing and could go to jail for brazenly breaching his four year driving ban.
An officer posted on PSNI Magherafelt's Facebook page last night: "Right, where do we start with this….
"Just over a week ago we caught a drunk driver between Clady and Portglenone
"At that time he was almost four times over the limit.
"He was barely able to stand and barely able to talk.
"He was fast tracked through court and given a four year ban as well as fines of hundreds of pounds.
"This afternoon (Tuesday) we were about to post the outcome of the court case but before we had the chance we caught him again.
"So less than two weeks after we last caught him, less than a week since he was further banned in court, we catch him out driving early afternoon today (Tuesday).
"Almost four times over the limit – again
"No Insurance – again
"Driving whilst disqualified – again
"Couldn't stand – again
"We're putting him in front of a Judge first thing in the morning (Wednesday).
"As you all know we watch disqualified drivers, you guys are also becoming excellent at providing the info about disqualified drivers on the move as well.
"Keep it coming.
"Great teamwork means we are able to get selfish individuals like this off the roads promptly.
"So you keep sending the info and we'll keep hunting and arresting these individuals.
"It seems it's going to take a prison cell for some to get the message."
Tags: