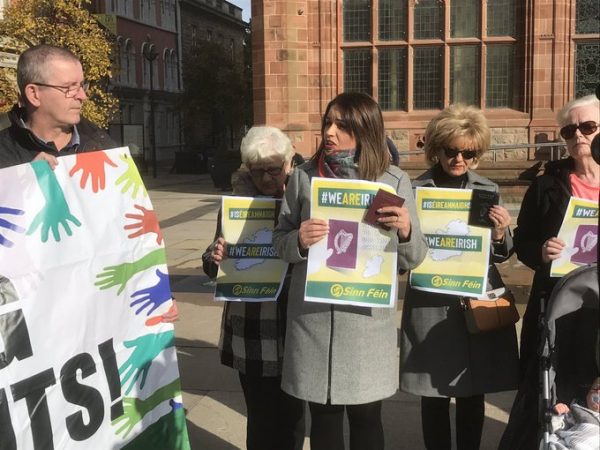 SINN Féin's Elisha McCallion has said the British government cannot be allowed to trample over the rights of Irish citizens and the Good Friday Agreement.
Speaking after addressing a rally in Guildhall Square, the Foyle MP said: "Today people came out on to the streets of Derry and Belfast to show their anger at this latest attempt by the British government to trample on the Good Friday Agreement.
"There is widespread anger that the British government is blatantly disregarding the Good Friday Agreement provision that people born in the north of Ireland have the right to be Irish, British or both.
"That right cannot and will not be taken away from us and no British court will tell us that we have to identify as British rather than Irish.
"We need to see an end to British government reneging on Good Friday Agreement commitments."
Earlier this week, a tribunal in London ruled that Co Derry woman Emma De Souza was a British citizen by birth and not Irish.
Her lawyers had argued that the 1998 Good Friday Agreement allowed people to identify themselves as either British, Irish or both.
Mrs De Souza plans to appeal the tribunal's decision to the Court of Appeal in London.
Her case has the backing of Taoiseach Leo Varadkar and his Tanaiste Simon Coveney who slammed the ruling, saying it went against the Agreement.
Tags: