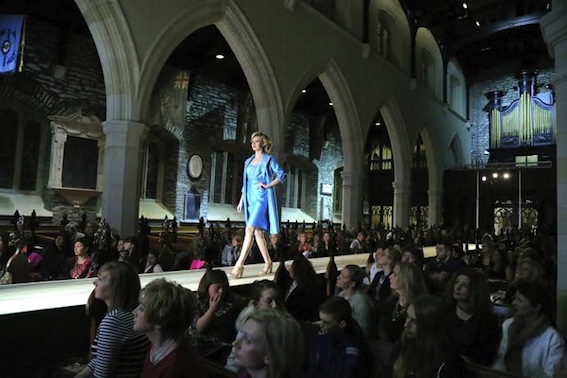 THE Guildhall is the place to be this weekend as it plays host to the most exciting style event in the North West as Fashion Fest makes its return on Saturday, October 19.
While fashion fans can view pieces from some of the most exciting seasonal collections a full evening of live music and entertainment is also planned, showcasing not just the cream of the design world, but also some of the very best local talent.
The aptly named Create Dance Company will be setting the scene for a night of design innovation and inspiration with their energetic and exciting approach to modern dance, with an opening performance to remember under the direction of Carie Logue-Houston.
The youth dance group will also be modelling some of the beautiful floral creations by popular local designer Aoife Doherty of Sass and Halo fame, as well as costumes by the Fashion and Textile Design Centre.
Based at Studio 2, Create have a number of public performances already under their belts, wowing audiences at the annual Halloween parade, Foyle Maritime Festival and Obon Festival.
On Saturday night they will perform to music from Elma Orkestra & Ryan Vail's 'Arrival' – making this a truly local collaborative performance.
Speaking ahead of the event Carie said they were looking forward to showcasing the company's latest work. "Create dance focuses on developing movement skills and nurturing creativity of young people in an encouraging, fun environment," she explained.
"As well as working on dance technique and choreographic skills in weekly classes, Create dance encourages performance opportunities for the dancers such as taking part in the annual DCSDC Halloween and St Patrick's Carnival parades with Studio 2, and the Foyle Maritime Festival.
"Create dancers have also collaborated with local youth performance companies such as Fresh Academy of Performing Arts.
Fashion Fest 2019 will most definitely be an unforgettable performance opportunity for Create Dance, and we are delighted to perform while wearing some of the beautiful Sass and Halo headdresses.
"Being offered the chance to open the show with dance – especially at such a professional and established event – let's just say we are beyond excited!"
Mayor of Derry City and Strabane District, Councillor Michaela Boyle, said the night offered a wonderful opportunity for local talent to shine.
"Fashion Fest never fails to impress with the high standard of the production setting the scene for an impressive array of collections from local and international designers.
"The North West is really starting to emerge as a cultural hub with a growing network of creatives dedicated to developing the fashion and design industry locally.
"We have a wealth of talent right here on our own doorstep and it's so important that we celebrate that and provide opportunities for designers to thrive and create an industry that can support and sustain local talent.
"I look forward to a great night with plenty of entertainment for everyone to enjoy."

This year's Fashion Fest is a real celebration of both diversity and style. For the first time the event will be showcasing dragwear at the event, featuring the spectacular range Call Me Sophia by Chloe Dougan, which promises to bring even more glitz and glamour to the show.
US design label Badgley Mischka will also feature with a stunning collection of wedding dresses, which will excite any future bride. And there will be a warm welcome for some much loved local designers including Una Rodden and Sara O'Neill.
If you're wondering how to accessorise your new wardrobe then look no further than the beautiful range of bags from Celtic Irish Art.
Other highlights include a pop up vintage shop for fans of more classic tailoring, as well as a special pop up beauty store featuring the latest beauty treats from Colour Me Bootiful.
Junk Kouture will also be getting creative with some recycled materials to add a unique twist to contemporary design. Young designers will have the chance to showcase some award winning pieces and reveal more about their up and coming events.
A very limited number of tickets are still available for the night which will feature music, refreshments – not to mention the essential Fashion Fest goodie bags.
They can be purchased online now at derrystrabane.com/fashionfest and via Eventbrite priced £18.50 Standard / £15 Students.
Complimentary refreshment and Goodie bag on arrival on all tickets purchased.
Tags: