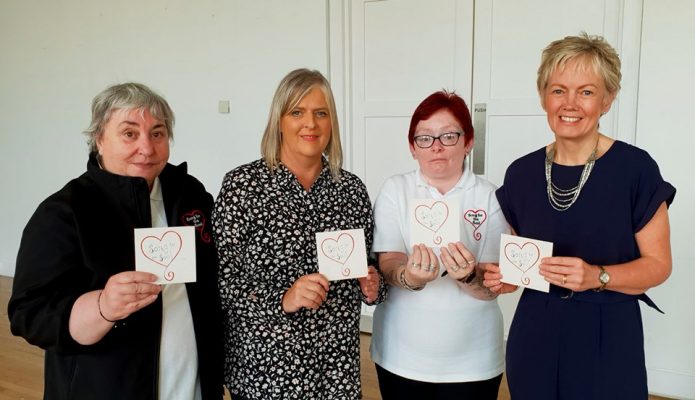 THE Western Trust Rossdowney Recovery Team are delighted to launch a special CD by the 'Song for the Soul' Choir in The Playhouse, Derry.
The 'Song for the Soul' CD is a true collaboration between various agencies including the Halifax Foundation for Northern Ireland, Playhouse, Western Trust and Blast Furnace Recording Studios. It marks a significant milestone in the life of this vibrant choir which continues to grow from strength to strength.
Valerie Spencer, Rossdowney Recovery Team Manager said: "The choir started up in 2015 and was the brainchild of Katrina Shields, Community Psychiatrist Nurse in the Rossdowney Recovery Team, who has a lifelong passion for music.
"Having sang in a band she had the idea of setting up a choir for some of the service users of the Recovery Teams. Helen Ferguson, Occupational Therapist with Rossdowney Recovery Team, using her extensive knowledge and skills, helped apply for an initial £5,000 funding via CLEAR (Public Health Agency) which enabled us to employ an independent musical director, Siobhan Heaney and her accompanist Joseph Deery on piano."
Valerie explained: "The aim of the Song for the Soul project was to bring everyone including health professionals and service users to come together weekly for the sole purpose of singing and offering the opportunity for social interaction.
"The mental health benefits of singing are well documented and all members of the choir have benefitted immensely from this experience.
"Using music and song to express ones emotions has been found to enhance wellbeing, reduce social isolation, reduce emotional distress, depression and anxiety, improve confidence and self-esteem and the group setting promotes feeling of connectedness
"In enabling the choir to use the Playhouse as a venue our choir members are able to feel more connected to the city and take part in group activity which is all inclusive and community based.
"Strong supportive relationships have been fostered and this has been an integral part of its success.
"This choir is an original and dynamic group which is continuously evolving but most importantly the overarching aim of offering people a group activity to improve their mental health is being achieved.
"The choir meet up every Monday from 2pm to 3.30pm and new members will be warmly welcomed.
As user enjoyment and wellbeing have improved, word has spread about their wonderful singing and we have taken part in several local festivals and events including The Foyle Maritime Clipper Festival and a Choral Festival in Bangor.
At the beginning of the CD, Service users reflect on what Song for the Soul means for them and the impact it has had.
Some comments were:
"It brings my mood right up."
"Coming to Song for the Soul gave me a good reason to get up and get out.##
"Being part of the choir has changed my life, my mental health has improved, I feel more joyful and happier."
Added Valerie: "We are very proud to be launching this CD and we look forward to a busy October with performances at the Holywell Trust today, Thursday, October 10, to mark World Mental Health Day and a performance at the Choral Festival.
"We hope you enjoy our music as much as we have enjoyed performing it.
"Finally we would like to express our enormous gratitude to the Halifax Foundation for Northern Ireland, who have supported us since the beginning.
"Without their support we could not continue to grow.
"I would also say a huge thank you to The Playhouse whose commitment has been unwavering and we look forward to continued success in the future."
Tags: