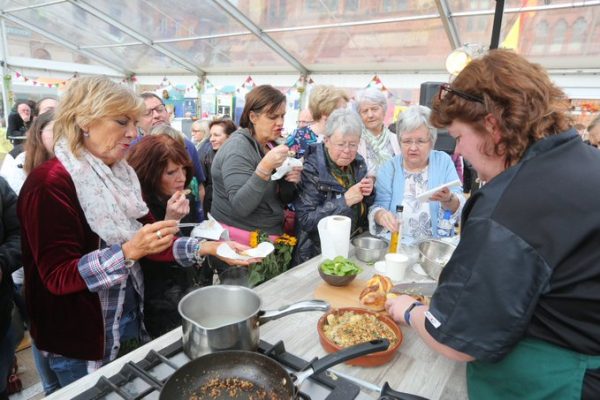 THE NORTH of Ireland's only Slow Food Festival returns to Derry today (October 9 – 13) with a bigger-than-ever programme of events and activities to attract foodies from near and far.
Now in its fourth year, the festival has been extended from two days to five to accommodate the growing demand for fresh, locally sourced food which has not been flown in from the other side of the world and provides a platform for local people producing authentic, artisan foods.
Central to the festival will be the Harvest Market marquee where producers will be showing off the fruits of their labour while visiting and local chefs will be busy in the kitchen, cooking up a feast with all the local ingredients to hand.
Well-known chef, broadcaster and author Paula McIntyre will be among them. She is Director of Slow Food NI and she is passionate about promoting produce which is 'good, clean and fair'.
She said: "I first got involved with Slow Food in 2012 and when I attended the Terra Madre Festival in Turin in 2014, I was invited to represent UK in the Terra Madre kitchen.
"Up until then, Northern Ireland had been part of Slow Food Ireland but Slow Food International then changed it to Slow Food UK with four directors and I'm director in Northern Ireland. We have recently started Slow Food North West and Slow Food North East.
"The ethos behind the slogan is good, clean and fair and that's especially resonant nowadays with climate change and the fact that we have come to realise that we have to eat sustainably, but Slow Food started back in 1986 when there wasn't any talk about that.
"It's harking back to our grandparents' time when there were no pesticides, people ate seasonally and ate as much that came from the locality as possible.
"But it's also just as much about the way we eat as well as producing food ethically. So many children these days eat ready meals off their laps or up in their bedrooms – a school in Dorset reported that children taking school dinners didn't know how to use the tables – so even though Slow Food is a political organisation in 300 countries globally, we are also very much about the social aspects of sitting round a table eating and chatting with family or friends. We've lost the art of that."
Good quality food and home-cooked meals made by all the family were constant features of Paula's own childhood.
She recalls: "My mother and granny and aunts were all great cooks and bakers, I remember us all baking together.
"We got the meat from the butcher, the vegetables from the greengrocer and the potatoes and mushrooms came from a farmer up the road.
"The eggs were all local too. An Italian chef I'm friends with says it's 90 per cent about the shopping and the rest is the cooking and that ties in with the Slow Food way of finding the best local produce.
"My mother was quite adventurous. As a child, we went to Edinburgh and I'll never forget visiting the deli Valvona & Crolla which is still there. It was the first time I had fresh parmesan and parma ham. My mother brought it back and we had it with fresh spaghetti which was quite something in the 1980s."
Paula is a regular visitor to Italy where the Slow Food movement started more than 30 years ago.
"I spend a lot of time in Italy with a couple of Slow Food companies that I'm involved with and I was there last week on holiday with friends from Portstewart and I discovered that the Crolla family from the Edinburgh deli come from the next village to where we were staying – it really is a small world!
"There's some brilliant support for Slow Food in Northern Ireland and that support helps me to go around schools. We would like to go into more to get children interested in food and socialising around the table.
"It's great to bring people to the Slow Food Festival, they get to try all the artisan produce such as the beautiful pizza, great bread, really well-made sweet treats – there's a lot of talk of sugar being the enemy, but sugar isn't the enemy, it's the overuse of it that's the problem.
"There are all these lovely foods for people to come along and enjoy."
A host of Ireland's top chefs will be attendance over Saturday 12 October and Sunday 13 October including local Good Food Ambassador Jenny Bristow, and one of Ireland's top culinary stars, Catherine Fulvio as well as some of the best local chefs working in the North West.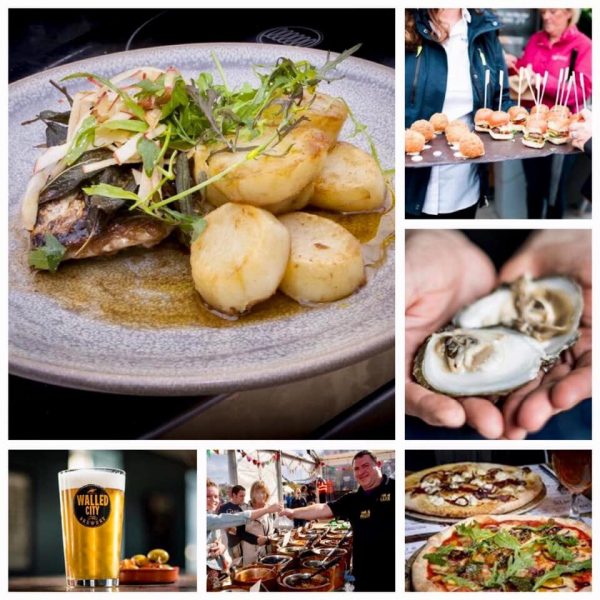 Like Paula, Jenny Bristow grew up with honest Ulster produce on her plate and she has cultivated a successful career by sharing her take on classic home-cooked recipes, through her cookbooks, TV shows and cookery school from her home near Cullybackey.
"I've been really busy," she says. "My fourteenth book 'At Home With Jenny' is out soon and is a look at how food has changed over the past 20 years and my take on it, such as tear & share bread which I'll be making at the Slow Food Festival.
"With all the lovely produce of autumn, I'll be making a selection of hearty dishes with all the delicious foods from the local suppliers.
"I did the LegenDerry Food Festival a couple of years ago and I'm looking forward to coming. I love doing demonstrations, it's lovely to interact with the public and have people come up and chat and share inspiration and ideas.
"We are just streaks ahead with what we are doing in Northern Ireland with local food and produce.
"As a Good Food ambassador, the Slow Food Festival fits perfectly.
"If you think of all the great produce we have, there's nothing you can't get, there's so much choice. We're also in control of what we are doing with fat and sugar content, with additives and colourings.
It's great to be able to show people how simply you can put things together."
Catherine Fulvio, like Jenny, comes from a farming background which introduced her to wholesome ingredients and an appreciation of where food comes from at an early age. She now runs a cookery school from the family farm in Wicklow.
Her visit to the Slow Food Festival is her first to Derry but she realises now her upbringing was steeped in the concept of Slow Food long before it became a movement.
She said: "Unbeknownst to my grandmother and mother, we have been supporting Slow Food at our family farm for many generations and in particular since we opened our doors as a Farmhouse Bed & Breakfast back in the '60s.
"Today we use a lot of our own fruit, herbs, edible flowers and veg which we grow at Ballyknocken Cookery School and people enjoy picking their own ingredients from the kitchen gardens.
"The main principle of the slow food movement is to be sustainable and preserve biodiversity. It's also about the quality of the food we eat as opposed to convenience which is music to my ears and means eating fresh in-season produce locally sourced.
"What I enjoy most about travelling to events such as the Slow Food Festival is meeting the local people and exchanging food tales with them about what they had in a particular place and why.
"I'm hearing more and more about Irish produce and I get to discover some really wonderful produce that is specific to an area.
"Often when a food producer starts-up their product is only available locally – this is one of the biggest advantages of touring the country, you get to taste it first!"
Donegal chef Brian McDermott has one simple belief – that tasty, healthy food based around traditional recipes and local produce is something everyone should enjoy.
Winner of 'Best Cookery Book in the World' with his 'Donegal Table', the Moville-based chef-hotel proprietor has good reason to think as he does.
As one of twelve children, the focal point of the family was always his mother's kitchen table, and her home cooking continues to inspire Brian as he shares his own love of food with others.
He said: "I am passionate about local food so the Slow Food Festival kitchen is the perfect place to share that passion with all the great local produce there.
"Living and working in the North West with so much fresh and wholesome food available from the sea and from the land means I am able to adopt the Slow Food ethos into my everyday cooking.
"It's great to get to the festival to speak about my experiences of local food and finding out other people's.
"One of my strongest memories of growing up is the family coming together at my mother's kitchen table and connecting over her home cooking.
"I like to continue to celebrate the best of that warmth and tradition through my cooking.
"Tasty, healthy food based around local produce is something every family can enjoy and I believe here in Ireland we have local produce to rival anywhere in the world."
Like Brian, Ian Orr is another foodie favourite of the North West through his restaurants and television appearances.
Ian enjoys the entertainment and educational values of cooking demonstrations. From demonstrations in the private homes of celebrities to a televised cooking demo at the world's oldest and largest Flower Show in Philadelphia USA, Ian has performed far and wide but he is looking forward to a home engagement.
Ian said: "The slow food ethos is at the heart of our business, our fine dining restaurants feature the best local and seasonal produce, we forage and grow many of the ingredients ourselves and we are privileged to have such a wonderful array of quality produce available to us.
"It is an honour to be a culinary ambassador for the region, I'm really looking forward to sharing my recipes at the festival this weekend."
Alongside the celebrity chefs will be some of the most talented chefs working in Derry, including Sean Harrigan of the Sooty Olive, Brian Simpson of The Pickled Duck, Noel Ward of the White Horse Hotel and Mike Mango of Walled City Brewery as well as Oysters Restaurant from Strabane.
Street food stands will also be in place over the weekend so no-one will go hungry in Derry this weekend!
To find out more information, visit: www.derrystrabane.com/food
Tags: