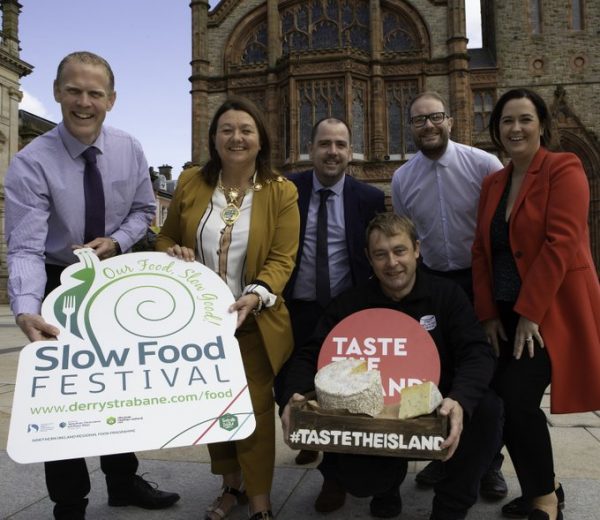 "WE have a unique position geographically, with the land, the sea and the mountains surrounding us so an abundance of beautiful ingredients is on our doorsteps."
So says Selina Horshi of the White Horse Hotel near Derry and the vice-chair of the recently formed LegenDerry Food Network, speaking about the wealth of local produce within the area.
She adds: "Because we have this amazing position, it gives a uniqueness to our local food like the destination itself. We are ideally placed to do this."
'This' is the Taste of LegenDerry dining experience which takes place on Friday, October 11 as part of Derry's Slow Food Festival.
Tickets are on sale now for this long table dinner in the Harvest Marquee in the beautiful setting of Derry's Guildhall Square and indulge in the best produce the North West has to offer.
Selina and her fellow Food Network members who grow, create, cook and serve the delicious dishes set out to share among diners will be on hand to inform and explain every ingredient to even the most inquisitive foodie.
The Festival is the only one of its kind in Northern Ireland and is now in its fourth year.
Having been named Tourism NI's Food & Drink Experience of the Year 2018, it has upped its game for 2019 by extending from two days to five of foodie experiences from October 9 – 13.
The jewel will be the Taste of LegenDerry Slow Food Dining Experience when members of the LegenDerry Food Network come together to showcase the stunning array of tastes from the shores of Lough Foyle to the foot of the Sperrins.
Industry-led with support from Derry City and Strabane District Council, the Network represents every aspect of the hospitality sector in the area – restaurants, hotels, cafes and producers – who will pull together to provide chefs, waiting staff, food and equipment, all for no profit as the entrance fee will simply cover costs.
Selina explains: "We have worked as a collective, creating and delivering the work on the night, led by Jill McKillop (Executive Chef Walled City Brewery and owner Grainola Goddess), Noel Ward (Head Chef White Horse Hotel) and Mike Mango (Head Chef WCB).
"Everything will be put out on long tables and everyone will have a plate to help themselves, with the ingredients and dishes prepared by local chefs and producers with local ingredients in keeping with the Slow Food ethos.
"For example, there will be homemade breads, Jill is doing one with beer while Noel has been testing a seasonal beetroot soda bread, which brings together heritage, local ingredients and seasonality so it really speaks to you of an exact time and place in which you are experiencing the food.
"We're taking the best ingredients we have out there. We're working hand-in-hand with Doherty's Meats to combine with other smaller, independent producers like the sauces from Lo & Slo, keeping it as tight within the region as possible.
"Ultimately we want the evening to be very social.
"Everyone will be seated at the long tables, so while you'll be beside your friends, there will be a lot of other people around so hopefully everyone while sharing the food will be engaging with one another and there should be a real feeling of fun.
"As well as all the seasonal produce, the marquee will be decorated for the time of year so there will be a real harvest feel, you'll very much know that it's the month of October.
"We'll also be serving local drinks with each course which have been carefully selected to compliment the food.
"This is the first time this has been done, the idea of collectively working together and the Slow Food ethos ties in with the LegenDerry Food Network.
"We have some great producers and restaurants out there, giving visitors an authentic experience that they'll go away from talking about Derry as a foodie destination."
James Huey from Walled City Brewery and Chair of the Network agrees.
He says: "There were those who could see the value from the outset of coming together even though they are doing it voluntarily in their own time and the whole reason those of us who are involved are doing so is because we want to improve the city and the district as a food destination.
"The Slow Food ethos struck a chord because it is local, authentic, ethically-sourced and that's very much what the Food Network want to do, so the festival gives us a great platform to work off because there are fabulous products in the local area that we are going to showcase and they all adhere to the Slow Food criteria.
"There's a drive now for cuisine and food in Ireland and beyond that people want to eat locally, to eat what the locals eat.
"On the night itself, it's really important to meet the producers and hear their stories, it brings it all to life.
"If it's an experience, it becomes a memory and people will tell others about it and hopefully create a buzz about the city.
"People will think,'WOW', I didn't know about the fantastic cheese from the Sperrins, for example, and they'll tell their friends from further afield, 'you've got to try this'.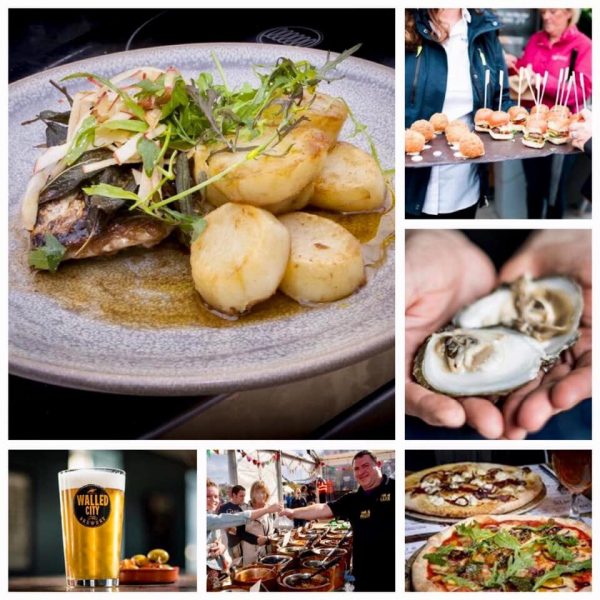 "The great thing is, all the products are excellent and, if people are spending money locally, it stays in the local economy rather than being sucked out.
"A rising tide will help us all and we are all very passionate about what we can do here."
The local producers and suppliers involved in the event include Doherty's Meat, Donegal Prime Fish, Grants of Culmore , Lo & Slo, White Horse Hotel, Whiteoaks Organic Vegetables, Rough Brothers Brewing, Walled City Brewery, Northbound, Redgate Cider, Tamnagh Foods, Dart Mountain Cheese, Grainola Goddess, Manor Farm and Broighter Gold Rapeseed Oil.
The event is supported by the food network committee also including Pickled Duck Café, Nonnas Pizzas and representatives of Derry City and Strabane District Council.
To book places at the Taste of LegenDerry Dining Experience or to find out any more information on the Slow Food Festival, visit: www.derrystrabane.com/food
Tags: