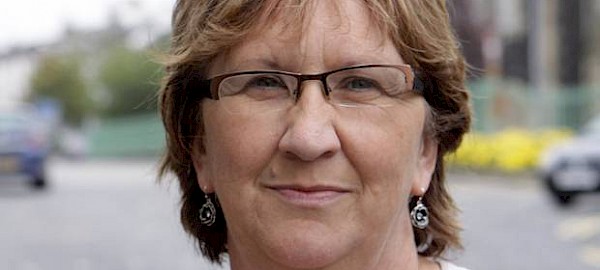 SDLP Justice Spokesperson Dolores Kelly MLA has branded posters erected by Saoradh in Derry warning about the dangers of fireworks as 'sickening'.
Mrs Kelly condemned the double standard from those who put guns and petrol bombs in the hands of vulnerable young people to attack police.
And its military roup, the New IRA shot dead writer and author Lyra McKee in Creggan on Thursday, April 18.
The poster reads "use your head, or lose your hand. Don't mess with fireworks!"
Said Mrs Kelly: "Earlier this year a young journalist was murdered on the streets of Derry by those intent on creating chaos and division.
"It is frankly sickening that supporters of those who arm vulnerable young people with guns and petrol bombs are now warning about the dangers of fireworks.
"It defies belief and it's an insult to those who have come under attack.
"This is a disgusting double standard from individuals posing as normal community organisation. They are not.
"Let their spokespeople come out today and condemn petrol bomb attacks on the police.
"Let them condemn those shooting people under the cover of darkness.
"They have no concern for people's safety. And everyone sees through them," she added.
Meanwhile, the Derry Journal has apologised after publishing Saoradh's contact details with a statement from the party encouraging anyone with concerns regarding "anti-community activity" to contact Saoradh representatives.
In a statement published on the newspaper's Twitter account, a spokesperson said: "In light of the upset caused by the publication of a statement by Saoradh in Tuesday's edition of the 'Journal' the paper would like to apologise unreservedly.
"The publication of the statement was an error of judgment and will not be repeated."
Tags: